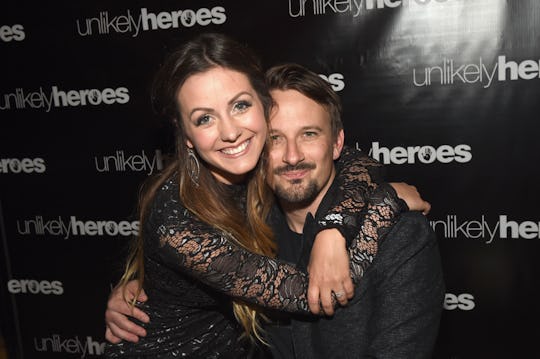 Rick Diamond/Getty Images Entertainment/Getty Images
'BiP's Carly Waddell & Evan Bass Revealed Their Baby's Name With The *Cutest* Photo
Evan Bass and Carly Waddell might be Bachelor Nation's most adorable couple, if only because of the ridiculous way they fell for each other on national television. Since their wedding in June, the Bachelor in Paradise couple just keeps coming at us fans with great news — the most recent being that Waddell and Bass officially revealed their daughter's name. And she's not even born yet! These two lovebirds, right?
Bass posted a picture on Instagram of him and Waddell holding a Cabbage Patch doll in a gorgeous nursery, painted a muted green and decorated with fairies and flowers. He captioned the photo:
Well folks, I lost the battle to name our baby girl Evan but I won the war with the name: Isabella Evelyn Bass. My sweet Grandma Bass was named Evelyn and she was the best and I hope that our daughter is fierce like her.
Waddell posted a pic in the same nursery to announce the name, and that they'll call her "Bella" for short. But she also included a promo code for some of the Highway Three baby blankets in the crib, because a Bachelor contestant's work is literally never done. She also teased her due date sometime next month.
This is Waddell's first child, but Bass has three sons, Ensely, Liam, and Nathan, from a previous relationship that he keeps out of the spotlight and Chris Harrison's camera crew. His boys did make a rare appearance on Instagram for their gender reveal in August, which included 31-year-old Waddell and 35-year-old Bass along with the boys and tons of pink items.
"This is our professional Gender Reveal photo! IT'S A GIRL!!!! I'm not the only girl anymore! Woo Hoo!" she wrote.
News of the couple's pregnancy broke in the media right around the same time that their June wedding aired during the Bachelor in Paradise premiere in August. If you noticed that Waddell wasn't having any of Wells' island concoctions, you have a good eye. The couple found out about the pregnancy just after they tied the knot on the beach, according to an interview they did with Entertainment Tonight.
Waddell said:
It was a great surprise, it's a great little miracle. I was a little late … We took a pregnancy test in Mexico, and we saw the thing [in Spanish] and were like, 'What does that even say?' So we Googled it.
Bass told Us Weekly of taking the pregnancy test south of the border, "We freaked out. It was extra special to find out down the street from where we got married, engaged, everything." He added in the same interview that his sons are thrilled about having a little sister. "They really want it to be a girl. They've already got contingency plans if it's a boy too. He's going to be the next Ronaldo if it's a boy. If it's a girl, we're going to protect her together."
He added, "We're a family of boys, and Carly and they want that little girl."
Waddell and Bass had quite the romance in Mexico. After getting together on Bachelor in Paradise in 2016, it seemed like things weren't really meant to be for the two, since Waddell didn't always seem convinced, according to E! News. In fact, she told Glamour that she had to prep the erectile dysfunction expert before their season aired that she might have said some not-so-nice things about him when they first met. Once she had to nurse Bass back to health in the hospital, though, it was nothing but love. She said in the same interview that that sealed the deal.
"There were no cameras, and it felt like I was dating in normal life. We started getting this connection, and I remember sitting in the car on the way back and thinking, "I really want to hold his hand. What?" And then, "Oh my gosh, I think I really like him. What?!," she told Glamour.
It's been a long, windy road for Waddell and Bass, but since that hospital "date" things have been trending up. And with the arrival of their daughter next month, there'll be tons more to look forward to.
Check out Romper's new video series, Romper's Doula Diaries:
Watch full episodes of Romper's Doula Diaries on Facebook Watch.