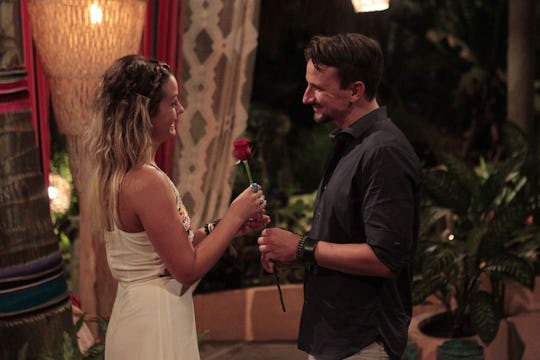 ABC/Rick Rowell
Are Evan & Carly Getting Married On TV? The 'Bachelor In Paradise' Couple Are Solid
When Carly got "Kirked" last season on Bachelor in Paradise, it was the last minute breakup heard around the world. Or, just heavily among Bachelor Nation fans, but it was still plenty heartbreaking and made you wonder if Carly could come back from that. And she did this season when she met Evan, so are Carly and Evan getting married after Bachelor in Paradise? Ever since they had that impromptu hospital date, they were inseparable, and they only got better from there. And after Monday night's part one of two finale of Bachelor in Paradise, they were probably the strongest couple next to Josh and Amanda.
I hate to get my hopes up and assume that Carly and Evan are going to be fine since they've proved to be kind of the perfect couple, but they actually are going to be fine. Even better than fine, since it's more than likely that one of the multiple engagements to happen on Tuesday's season finale of Bachelor in Paradise will be between Evan and Carly, and she finally seems to be over her interview exclamations of wonder about being in love with "the penis guy". So will Evan and Carly get married once the show is over this season? And will it be a televised treat for us all to enjoy? Because a clip show beforehand of their rocky but hilarious start as a couple would be everything.
Last season on Bachelor in Paradise, Carly set her sights on Kirk DeWindt and spent the entire six weeks pursuing a relationship with him, only to be told, right around this time last year, that he wasn't feeling her the same way she was feeling him. Carly even wrote a song about being "blindsided" by Kirk, but we really don't have to get into that right now. The important thing is that Carly has already made it super clear that she sees the huge difference in the connection she had with Kirk and the real deal kind of love she's developed for Evan that's mutual this time.
The rumor going around (spoiler alert) is that the Season 3 finale of Bachelor in Paradise Tuesday night will see three couples engaged and one tearfully splitting apart, but (also spoiler alert), Carly and Evan won't be the couple to end things. In fact, they're likely going to get engaged and, as you can see via Instagram, it looks like Carly and Evan have already moved in together.
Back in June, Bachelor in Paradise creator Mike Fleiss tweeted about having a future double wedding on the show and although that was well before Season 3 even began, it isn't totally out of the realm of possibilities.
Last season, Jade and Tanner became the "it" couple that are still used as a perfect BIP couple reference point today and their own wedding was televised on Valentine's Day, so Carly and Evan could very well get married after Bachelor in Paradise, double wedding or not. And yes, we might even get to see all of it, live on TV.