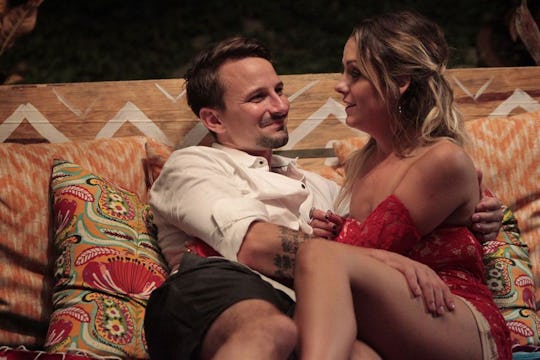 ABC/Rick Rowell
Do Carly & Evan Live Together After 'Bachelor In Paradise? She Wouldn't Have To Move Far
When you're lucky enough to find someone to love in paradise, you're even luckier when you realize that you already live in the same state, which is super rare to come by. For some of the new couples, they face trying to figure out if they should have a long distance relationship or move across the country after six weeks. And even they both already lived in Nashville, you might be wondering if Carly and Evan live together after Bachelor in Paradise. After some sleuthing around, it wasn't too difficult to figure out that Carly moved in with Evan shortly after they finished filming Bachelor in Paradise, and after their rocky start at the beginning of the season, it's kind of amazing to see.
Obviously not too much can be revealed regarding the fates of each couple on Bachelor in Paradise, but when you're in love, it's kind of hard to hide it when you clearly don't want to. Carly has done a good job of posting only close-ups lately, or screenshots from the show, while Evan has been all about the same, but there is one photo Carly posted of her cat a few weeks back that looks to be in the same space of the apartment Evan posted on Instagram himself.
If you remember, the beginning of Season 3 of Bachelor in Paradise was rocky for Evan and Carly as a couple to say the least. Their first kiss was kind of awful and awkward and he was definitely feeling her way before she was even entertaining the idea of Evan as her boyfriend. Then, they were given the worst date that could have possibly been assigned to them by a production team who was trolling them hard. They had to try and beat the world record for longest habanero pepper kiss. When it was done, they immediately ran their separate ways to throw up.
It took a surprise ride in an ambulance to the hospital for Carly to realize that there was something about Evan she actually wanted to pursue, though, and when they finally had a real kiss, devoid of any awkwardness or strings of saliva, you could practically hear a church choir singing in the background. Because now that Carly and Evan are together on Bachelor in Paradise, it's like they should have been the entire time.
So are Carly and Evan living together after Bachelor in Paradise? Judging by the few personal Instagram photos they've posted, it looks like they're still very much together and definitely sharing Evan's former bachelor pad. Monday night will be the first part of the season finale, which will show us how far Evan and Carly made it before the show was over. I.e., if he put a ring on it before giving her a set of keys. And I hope and pray to the Bachelor gods that Carly and Evan are engaged.