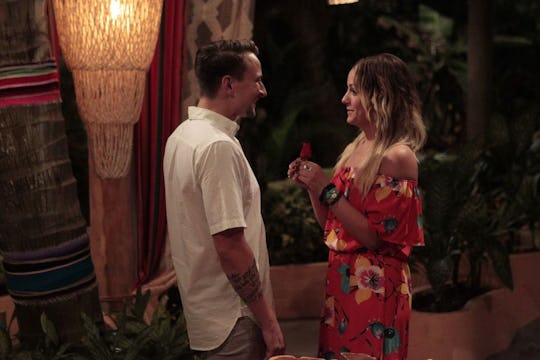 ABC/Rick Rowell
Evan's Ambulance Date On 'Bachelor In Paradise' Might Have Won Carly Over
It's a story as old as time. Boy meets girl. Boy pursues girl. Said girl pushes him away at first. Then, boy tricks her into going on an ambulance ride with him as a date and suddenly wins her over. At least, that is somehow what happened with Evan and Carly on Bachelor in Paradise. Because Evan's ambulance date on Bachelor in Paradise might have won Carly over finally. Of all of the things Evan Bass could have done to try and win back Carly Waddell's affection, it ended up being an ambulance ride and short hospital stay that brought them closer together.
On Monday's episode, both Carly and Sarah Herron were kind of in wonder over producers having a paramedic sent to Evan's room, and at the time, Carly shot out of bed to see what was wrong. It was clear that Evan hadn't done anything to himself to purposely get her attention, but once it happened, he was going with it, and Carly couldn't turn away. For one, she was sort of obligated to watch after him. And on the other hand, she admitted herself that she's attracted to weird and we all know the bit of weird that Evan brings to the table.
Maybe it wasn't the ambulance ride itself, because seeing that botched IV job on Evan's arm was something no one wants to be forced to see over and over again, ever again. But Carly said that seeing Evan in the hospital was finally a way for her to see him act normal, as she calls it, and not be goofing around or joking. And that's totally fair, considering the fact that since Evan doesn't take himself too seriously, there are times when his lightheartedness is too much.
Until Tuesday's episode of Bachelor in Paradise, all hope was lost for Carly and Evan and he was sure he wasn't going to find love at all this season. They'd had the most awkward first kiss that Evan was sure would be the start of something amazing. Spoiler - it wasn't. Then, the producers had to troll Carly hard and send them on a date that was centered on a 90 second kiss with mouths full of habanero fire and saliva. As a couple, they didn't have much going for them at this point. Then, they kind of clicked while playing drinking games, and apparently bonding over an ambulance ride to the hospital in a foreign country is a thing.
Evan's ambulance date with Carly on Bachelor in Paradise was probably one of the weirdest non-date dates in the show's history but in this case, it seems like it worked. Evan's brand of weird is what Carly is apparently looking for.