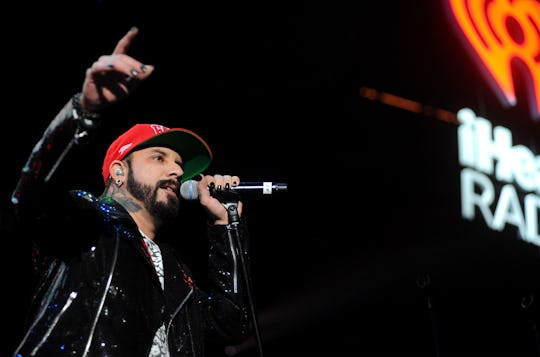 Timothy Hiatt/Getty Images Entertainment/Getty Images
Backstreet Boys' AJ McLean Welcomes A Daughter
Exciting news for 39-year-old Backstreet Boys singer AJ McLean, who welcomed another daughter on Sunday with his wife, makeup artist and hair stylist Rochelle McLean. Their baby daughter's name is simply stunning, and beautifully fitting for her father's art. Welcome to the world, little Lyric Dean McLean. The singer and his wife also have another daughter, Ava Jaymes, who is 4 years old. "I was told by someone very dear to me that having a child will change you forever, and that was beyond true with Ava," McLean told People magazine. "We decided to try one more time because even though Ava is so independent, the idea of having a sister or brother for her became more and more important to us."
The Backstreet Boys started their Las Vegas residency show at The AXIS at Planet Hollywood Resort and Casino earlier this month. McLean told E! News that he hoped his wife didn't go into labor while they were performing, "But if she does, I'll be on the first flight out right after the encore!" — and that's exactly what happened during Saturday night's show. McLean's daughter Lyric was born Sunday afternoon in Los Angeles, California, weighing 8 pounds, 3 ounces and was 22 inches long.
While there's no photos yet of the newest member of the McLean family, McLean updated his Instagram profile to read that he's now the "proud daddy of now two amazing little monkees." McLean told PEOPLE Magazine why it was important to try to give his oldest daughter Ava a sibling, especially since McLean grew up an only child:
...My wife is one of four and that showed me there's something beyond special about having siblings. Now, seeing the excitement and anticipation that Ava has about being a big sister is truly amazing, and the best feeling in the world.
McLean also added that Big Sister Ava has been so excited about hew new little sister, she's been practicing her Big Sis skills with her dolls — and even the babies of some of mom Rochelle DeAnna's friends, according to McLean. Too flippin' sweet.
Lyric is the latest member of the Backstreet Boys' extended family, and only the second girl behind older sister Ava. McLean's fellow bandmates have a combined total of six boys among them, ranging in age from 10 months — Nick Carter's son, Odin — to Brian Littrell's son Baylee, who is 14 years old.
McLean is over the moon for the latest daddy's little girl in his life, and he's clearly beyond beaming about being their daddy, telling PEOPLE: "Having two baby girls is a dream come true and we couldn't be any more proud or excited to welcome Lyric Dean McLean into the world and into our family."
D'awwww. Warm fuzzies for everyone — and congrats AJ, Rochelle, and Ava.