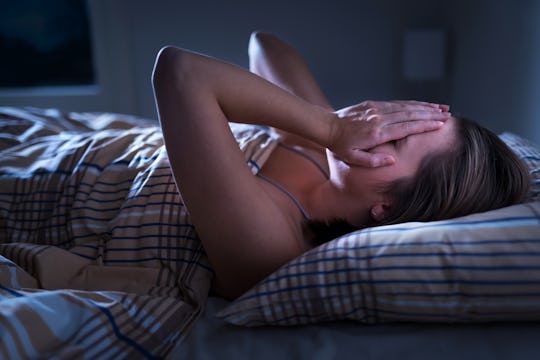 Shutterstock
The Most Common Nightmares Parents Have About Their Kids, According To Experts
I am one of those people who has extremely vivid dreams. When those dreams are frightening or anxiety-provoking, it sometimes takes me a few moments to calm my racing heart or catch my breath when I wake up. This is especially true when I have a bad dream about my kids and dream about something traumatic happening to them. Apparently, I am not alone. These five top parent anxiety dreams cover some of the most common themes related to parenting.
Dr. Lynelle Schneeberg, a sleep psychologist and a Fellow of the American Academy of Sleep Medicine, tells Romper why parents may experience anxiety-ridden dreams. "It's certainly common for parents to have dreams that involve risks to the safety of their children. I see this as the brain's way of trying to predict and eliminate these risks, which is certainly normal for a parent," she says. "A child getting lost is common, as is a child getting very sick or being in some type of accident. I can't say with certainty which are the most common, but these are the ones that parents mention to me the most."
Luckily, if you experience any of the following parent anxiety dreams, Schneeberg says that parents can use techniques such as rewriting the ending of the dream upon waking and reading it aloud before going to sleep next, or going into another room upon waking from the dream and focusing on a relaxing activity until you feel tired enough to return to bed. "This helps to keep the bed from becoming associated with negative emotions, and keeps it associated with relaxation and sleep only," she says.