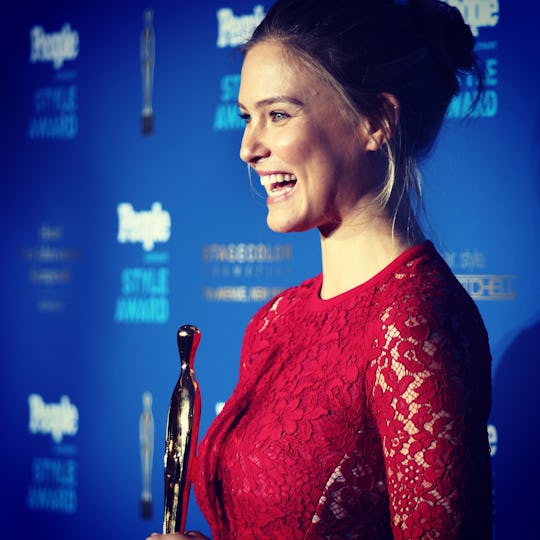 Andreas Rentz/Getty Images Entertainment/Getty Images
Bar Refaeli Gives Birth To A Baby Girl & Her Name Is A Sweet One
Congratulations to Bar Refaeli! Not only is the Israeli-born model preternaturally beautiful, but now she is a new mother. And the name she picked out for her little one? Loving it. Refaeli gave birth to a baby girl and gave her the sweetest name that will absolutely stand the test of time.
Refaeli and her husband, Adi Ezra, welcomed daughter Liv Ezra on Thursday, and while some might think of Liv as a nickname it's totally not. It's actually a Scandinavian name meaning "life." How precious is that, I ask you? I mean, it worked for the likes of Liv Tyler and Liv Ullman, right? Also Julianne Moore named her daughter Liv and everything she does is 100 percent perfect and we don't question it. So there you have it.
Liv Ezra was born at the Ichilov Hospital in Tel Aviv, Israel to her newlywed parents, weighing a solid 7 pounds. Refaeli and Ezra, her longtime love, were married in September at the Carmel Forest Spa Report in Haifa, Israel, according to People. The couple shared the news of their impending addition in January when Refaeli shared a photo of the positive pregnancy test (AKA pee stick) with her followers on Instagram.
And speaking of Instagram... Refaeli has been generous enough with her followers to share plenty of photos of her progress as a gorgeous pregnant lady. Not going to lie, folks: I very much wanted to hate on the photos but alas, she looked so happy and adorable, I simply could not.
Not even the shots of her in bikinis.
The question at this point is; when will we get to see pics of baby Liv? Not that I'm pressuring her at all, I mean, she should take her time. I'm just a sucker for the babies, what can I say? And I'm not the only one. Refaeli told Hello! Fashion Monthly that she is ready to bring on the babies, as it were.
I think this will be a decade of family … I come from a family of four children. A lot of [moms] could read this and think, "Yeah, try having one first." Hopefully, I'll have a big family, but I'll take it one by one.
I suppose we shall all have to wait and see how she feels now that she has baby girl Liv. I feel like she'll love it, I don't know why. It's not like we're friends or anything.
Or are we?