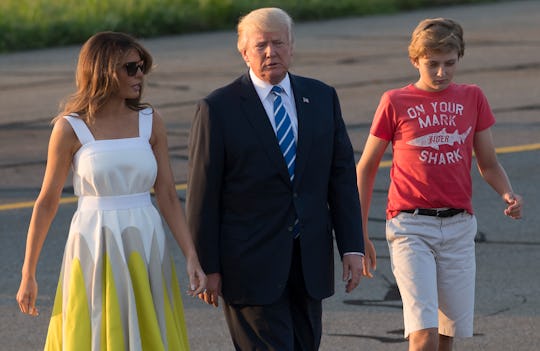 SAUL LOEB/AFP/Getty Images
Barron Trump Did Not Choose This Life, So Let The Kid Wear What He Wants
President Donald Trump is constantly on the receiving end of lots and lots of criticism. And that's fair, considering that he made the decision to run for the presidency of the United States. His youngest son, on the other hand, recently caught some flak from a conservative publication for dressing like the 11-year-old he is — and that's completely inappropriate. Unlike his dad, Barron Trump did not choose this life (he's just a kid!), so the media needs to leave him alone.
It all started when Ford Springer, the entertainment reporter for the conservative publication The Daily Caller, penned an opinion piece slamming the youngest Trump for wearing a T-shirt and shorts on Air Force One. "It's High Time Barron Trump Starts Dressing Like He's In The White House," the post's headline cried, before its writer went on to claim that Barron "looked like he was hopping on Air Force One for a trip to the movie theater."
Almost crafted with the sole purpose of generating hate shares that translate to traffic for the site, Springer's poorly reasoned hot take was so cloying that former first daughter Chelsea Clinton, whose mother Trump mercilessly ravaged during the 2016 presidential campaign, tweeted in his defense. She urged the media and other to "let him have the private childhood he deserves" and said it was "for shame" for an adult to treat a child that way.
Clinton of course, knows exactly what's it's like to ensure unrelenting (and undeserved) scrutiny as a young person thrust into life in the White House. She was only 12 years old at the beginning of her father's presidency in 1992, when conservative personality Rush Limbaugh dubbed her the "White House dog." For a grown man to attack a preteen's looks so savagely on the national stage is beyond inexcusable. Incidents like that are probably why Clinton is so quick to condemn disparaging remarks about the current first child.
Barron looked like a normal kid his age when returning to the White House with his parents from a vacation in New Jersey Sunday, wearing a red T-shirt that said "On your mark tiger shark," khaki shorts, and loafers. But the casual look fell short for Springer, who fawningly described first lady Melania Trump's dress as "just as jaw-dropping as the last," and praised the president himself as looking "dapper." Even the conservative writer could not see that going after the 11-year-old son of a Republican president is about as tasteless as it gets. In fact, it's about a million times more classless than Barron's dressing like a kid while traveling.
If Barron decides to run for office or otherwise embed himself in politics or public life sometime in the next few decades, fine. Maybe then it could be legitimately entertaining to point out if, say, his neckties were abnormally long. Until then, let Barron live.