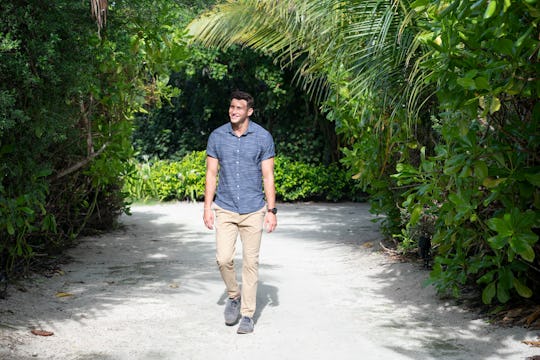 Paul Hebert/ABC
Becca's Breakup With Blake On 'The Bachelorette' Was Hard To Stomach
It's never easy to watch the runner-up deal with the breakup and subsequent heartache. But when Becca broke up with Blake on The Bachelorette season finale, his reaction was gut-wrenching. It was legitimately hard to watch the contestant and former frontrunner break down as badly as he did. Fans watched his love story with Becca unfold all season long with little to no hiccups, so when she chose to break things off with him, it was, in a word, heartbreaking.
To Becca's credit, she had to pick the right man for her and who she could see herself with in the long-term. Since that man was Garrett, she had no choice but to let Blake down, even if he did seem like an obvious first choice for her. And if Blake was absolutely crushed after Becca broke up with him on The Bachelorette Monday night, fans were almost equally broken by the blindside he seemed to feel.
Nothing could have really prepared viewers for Blake's reaction to the breakup, though. Even Chris Harrison announcing over and over during the live finale that it would be a dramatic and heartbreaking finale wasn't enough to prepare viewers for what was to come. Blake wears his heart on his sleeve and it showed more than ever through his tears. Clearly, Blake felt something deep and real for Becca and that made the heartbreak that much more difficult for him.
The worst part was probably that Blake went into his final meeting with Becca with the full intention of proposing to her. She even let him go through his spiel before his proposal, only to break things off. And, you know, break the hearts of millions of viewers everywhere. As soon as Becca told Blake that she felt a certain "piece with somebody else," Blake seemed to know exactly what was coming.
Blake's reaction to the breakup may have been one of the more heartbreaking and downright devastating in the history of the show. Of course you expect the runner-up to be sad and heartbroken, but the sight of Blake sobbing into a hand towel was too much.
If it wasn't enough to watch Blake's happiness fall from his face when Becca broke up with him during his proposal, viewers had to watch him cry alone and then cry in front of the camera afterward. Nothing about that experience had to have been easy for him, especially since he'd been so sure that he was going to be Becca's pick in the end.
On The Bachelorette finale special, Blake told Harrison that being in that situation was especially difficult because at the time, he'd been so sure that he was going to propose to Becca. It honestly could have been a lot worse in terms of Blake's reaction. He handled himself well and didn't lash out or accuse Becca of stringing him along. And she totally didn't, since her decision to choose Garrett was about following her heart, which is what the show is all about. But even if Blake was absolutely devastated, he handled it with as much class as he could have.
On The Bachelorette finale, Blake said that he'll always have love for Becca. The toughest part for him was feeling as though he was blindsided with the breakup. But he also said that he wants Becca to be happy, even if isn't with him.
Blake definitely took the breakup hard and let his feelings show afterward, but I expected nothing less. On a show where some of the guys are there for exposure or for fun, he really was there for the right reasons.