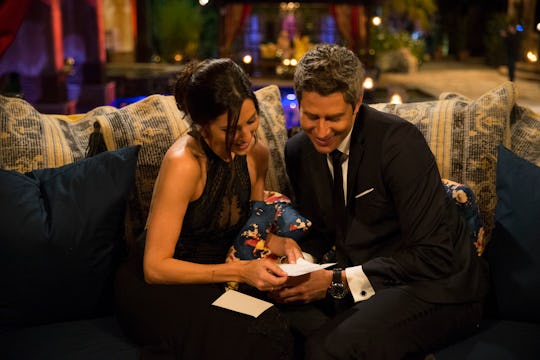 Paul Hebert/ABC
Becca's Instagram Will Make You Love This 'Bachelor' Contestant Even More
If you're going to be the future Mrs. Insert-Bachelor-Name-Here, you have to have at least a little bit of a soft side, right? Such is the case for Bachelor contestant Becca Kufrin, who has a soft spot for some adorable furry friends. In fact one look at Becca's Instagram before The Bachelor shows how much of a devoted mom she is to several different fur babies. For those who may not know, "fur babies" is the official name given to pets who are raised and cared for as if they are their owners' children, but is there really any other way?
As shown on Becca's Instagram, she has no less than two dogs (possibly three, but it's hard to be certain) and one cat, who all get her attention at any given time. And like a devoted dog and cat mom, she doesn't seem to favor one over the others. There are tons of selfies of Becca with her different pets, or photos of just her cat or dogs hanging out around her Minneapolis home or on outings with her.
It looks like she has one or two corgis of her own, plus a larger breed dog who pops up in her Instagram feed from time to time. Along with Becca's calico cat, they make a pretty adorable family, so let's just hope that Bachelor Arie Luyendyk Jr. isn't allergic to dogs or cats, because something tells me that Becca's pets are non-negotiable, and rightfully so.
On Becca's Bachelor bio, her love of animals was made clear, just in case you had any doubts that getting engaged or married would take front seat to welcoming all of the animals she can into her home. When asked about the top three things on her bucket list, Becca replied, "Hot-air ballooning, grape stomping, fall in love, and own a house and dog with my partner." Technically, that's four things, but I think we can let that slide.
Becca's love of animals seems to extend beyond her own, though, as she posted a photo in July of herself holding a bunny with her corgi close by like a jealous toddler watching their mom hold a newborn baby. While viewers may not know enough about Becca just yet to be hardcore rooting for, you can't really hope for the demise of someone who clearly values animals this much, can you?
If Becca didn't already seem like a lot of fun with the faux proposal she initiated with Arie upon their first meeting or the fact that her Instagram bio quotes the movie Pitch Perfect, then her love of her fur babies should probably do it for you. She also habitually jokes about her dogs wanting her alcoholic beverages, so she's not like a regular pet mom, she's a cool pet mom.
Aside from showcasing her obvious love for her cat and dogs, Becca's Instagram before The Bachelor shows fans of the show the real person behind the contestant and by all accounts, she seems completely down to earth and someone you actually want to see find love on a reality show.
If Arie proposes to Becca at the end of the season and she accepts, they're going to have to make a big decision of where they will begin their new life together. But even if she decides to leave Minneapolis for his home in Arizona or a totally new place in another state, her pets are more than likely going along for the ride.
Check out Romper's new video series, Romper's Doula Diaries:
Watch full episodes of Romper's Doula Diaries on Facebook Watch.