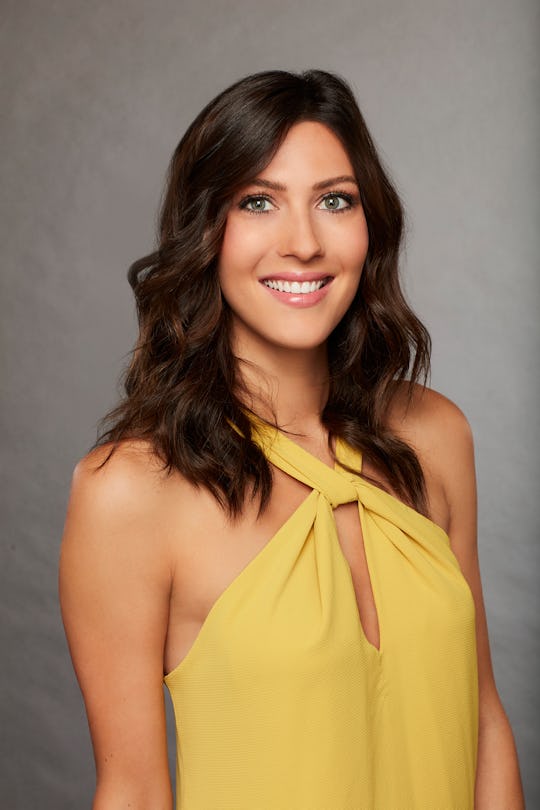 Craig Sjodin/ABC
Here's Why Becca From 'The Bachelor' Might Be Perfect For Arie
It's never too early to start learning about the Season 22 contestants of The Bachelor. Right off the bat, there are already a few who seem like they could legitimately hit it off with Arie Luyendyk Jr., like Becca Kufrin, who's from Wisconsin and might already have some things in common with the Bachelor. Fans will definitely be asking who is Becca on The Bachelor early on, thanks to the fact that she seems like the real deal and could very well be the one to walk away with the final rose.
While Arie is a former race car driver and now works in real estate, Becca certainly doesn't share his career aspirations, but the fact that she's settled in an established career at all speaks to her seriousness about settling down. For the past four years, she has worked in public relations as a senior account executive at Skyya, a public relations firm that specializes in serving and assisting technology firms. Before that, Becca was an account executive for the same firm for two years. Clearly, she's not afraid of commitment and seeing as how Arie is ready to for a life-long commitment, it would seem that Becca is also in that same frame of mind.
She's also a fan of comedies, which makes me ever hopeful for some light hearted banter and interactions to lighten the often tense mood that comes along with a large group of people competing for the love of the same person. In Becca's Bachelor bio, she listed Sister Act 2 and Pitch Perfect among her favorite movies and her Instagram's bio says "Yeah, no. Don't put me down for cardio," which is a Rebel Wilson quote from Pitch Perfect. But it also shows that The Bachelor contestant has a pretty legit and laid back sense of humor.
This season, there is going to be some stiff competition, with a variety of women from different backgrounds and with different careers, most of whom are in their mid to late-20s or even early 30s. Becca is 27, so she's not exactly the oldest or the youngest Bachelor Season 22 contestant. But if things don't work out with Arie, then Joe Biden might be another option for Becca, since judging by her Instagram, she seems ready to vote for him in the next presidential election, like a real life Leslie Knope.
However, if she makes it as far as hometown dates, there might be a couple of others that Arie may have to fight with for Becca's love since she's also a devoted cat and dog mom. Though to be clear, she seems way more into her adorable Corgi, who apparently helps her cook more often than not.
If Becca does get a hometown date this season, which I would be willing to bet money on happening, then there's a good chance that Arie will get to learn more about her dad, who died eight years ago after battling brain cancer for five years. Becca's family's tragic past could be revisited on a one-on-one or on a hometown date, but opening up about it will likely prove to bring them closer together.
Overall, Becca seems to have strong family values and take the relationships in her life very seriously, which coincides with Arie's own closeness with his family. So it's not really surprising that part of the qualities she sees in herself are loyalty and honesty, according to her Bachelor bio, which are likely important to her to find in a partner as well.
Becca definitely seems like one of the more grounded and approachable contestants this season and if I'm being honest, she kind of reminds me of Vanessa Grimaldi from Nick Viall's season of The Bachelor, which could be good or bad for her. On the one hand, Vanessa ended up winning over Nick in the end and the two were even engaged. But on the other hand, they're also now broken up.
Even so, Arie is no Nick and he's been out in the real world longer than he's been making the rounds in shows within The Bachelor franchise. Becca definitely seems like someone who could make a real, lasting connection with Arie.
Check out Romper's new video series, Romper's Doula Diaries:
Watch full episodes of Romper's Doula Diaries on Facebook Watch.