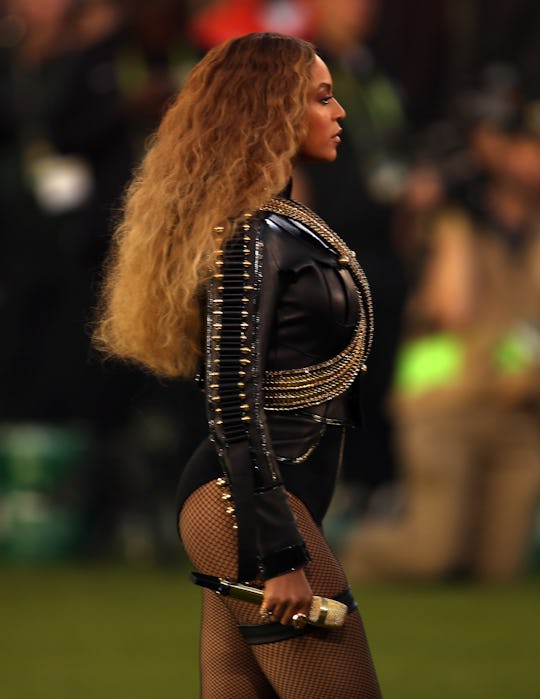 Matt Cowan/Getty Images Sport/Getty Images
Becky 'Lemonade' Theories Show Bey's Art Is Probably Not About Infidelity
Since Beyoncé released the HBO special of her album, Lemonade, last Saturday, fans – the world, really — have been digesting the visual album's lyrics, poetry, and visuals. Media outlets have released a number of think pieces and analyses of what Lemonade really means. The political album that takes on blackness, womanhood, relationships, and strength through adversity has many asking about the album's connection to the singer's actual life; specifically, how Lemonade's lyrics might be related to the singer's relationship with her husband, Jay Z. But the question that arguably seems to have garnered the most buzz and social media frenzy is, who is "Becky"? Beyoncé's mention of this "Becky" person has, unsurprisingly, led to a number of Becky Lemonade theories and attempts to track down this possible-real-life Becky.
Why? In case you missed it (but I highly doubt you did, unless you avoid the Internet like the plague), Beyoncé's fourth track on Lemonade called "Sorry," sparked the inner investigative journalist in Beyoncé fans and proud members of the BeyHive. Her line, "he only want me when I'm not there, he better call Becky with the good hair," has many questioning whether rumors that Jay Z had been unfaithful to Beyoncé are true, and, whether Becky represents the "other woman." Or perhaps none of it's true, and the Becky reference means something else. Let's break down some of these Becky theories.
"Becky" Is Fashion Designer Rachel Roy
Since Saturday's release of Lemonade, Rachel Roy found herself, and her 15-year-old daughter, at the receiving end of the stinging BeyHive, or alternatively, what turned into online bullying when she posted a now-deleted Instagram photo of herself with caption, "Good hair don't care, but we will take good lighting, for selfies, or self truths, always." The caption helped fuel earlier speculation that Roy had a relationship with Jay Z. The rumor originally popped up after the notorious elevator confrontation between Solange Knowles and Jay Z at the 2014 Met Gala after-party.
In an interview with People Magazine, Roy shot down the speculation that "Sorry" references her. "I want to put the speculation and rumors to rest," Roy said. "My Instagram post was meant to be fun and lighthearted, it was misunderstood as something other than that. There is no validity to the idea that the song references me personally. There is no truth to the rumors."
"Becky" Is Rita Ora
The singer who signed to Jay Z's Roc Nation in 2008 also experienced the wrath of Beyoncé's extreme fans when rumors started bubbling that she was in fact the "Becky" Bey referenced on the track. The BeyHive angrily swarmed her Instagram and Twitter accounts, but the singer slammed down any rumors that she is "Becky" on Twitter.
The Term "Becky" Is Somehow An Oppressive Term Aimed At White Women
Sigh.
Australian entertainer Iggy Azalea, joined others in suggesting that the term "Becky" is somewhat oppressive for white women, likening it to calling Asian women "Ming Lee" and black women, "Sha nay nay." And while I cannot personally dismiss Azalea's personal experiences in the way people have used the term "Becky" against her (perhaps offensive, even), I would argue that she, too, misses the point. Names like "Ming Lee" and "Sha nay nay" are often used as negative stereotypes and rhetoric that help promote systemic, oppressive, and deep-rooted discrimination that woman of color, specifically, have to combat everyday.
And while white women continue to have their own barriers to break, comparing the struggles are counterproductive and almost reeks of rhetoric used in reverse racism arguments. But, coming from a woman who pretty blatantly appropriates black culture, and has said discriminatory and stereotypical things about Asian, black and Mexican people, I guess there's no real surprise that she just doesn't get it.
"Becky" Isn't An Actual Person, But A Representation Instead
This theory seems to best get at the point of Beyoncé's work of art. "Becky" doesn't have to be an actual person. And the term itself isn't new. USA Today pointed to a cultural reference of the term "Becky" used in William Makepeace Thackeray's satrical novel Vanity Fair published around 1847. Character Becky Sharp used and seduced men to rise up the social ladder.
Culturally, the name "Becky" has indeed been associated with white woman, like, in Sir Mix A Lot's "Baby Got Back," where a white woman named Becky and her friend criticized the physique of a black woman. But even in Sir Mix A Lot's reference, "Becky" wasn't used as a way to attack white woman, but, rather to point out the lack of mainstream acceptance for black women and their bodies.
As a black woman, Beyoncé, who used "Becky" and the deep-rooted and often hurtful term familiar to black women, "good hair," possibly could have been calling attention to a generic person or representation of a mainstream entity that does not fully appreciate Beyoncé's appearance or a black woman's appearance, generally — an ode to a black woman's history of being told their features are not good enough.
Whatever theory you believe, Beyoncé once again has the world talking. Brava Queen Bey!