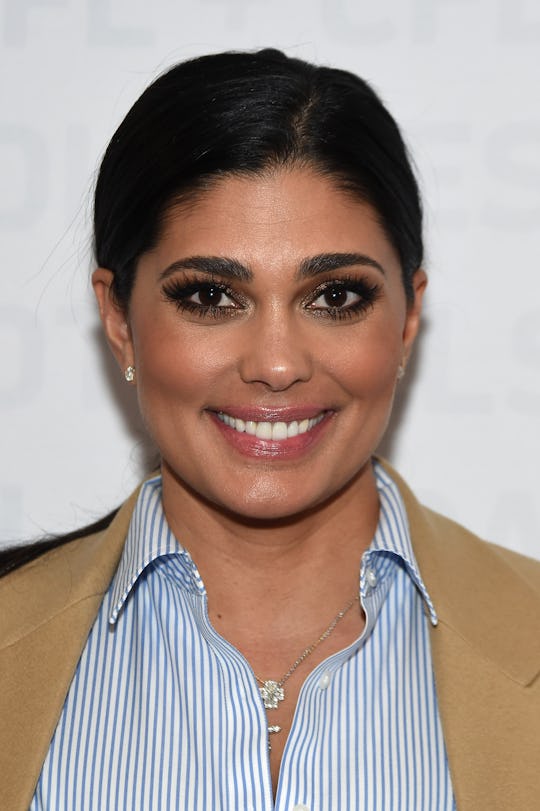 Jamie McCarthy/Getty Images Entertainment/Getty Images
Is Rachel Roy Dating Anyone? She's Been Keeping To Herself
If there's anyone getting more attention than Beyoncé after Saturday's release of Lemonade on Saturday, it's Rachel Roy. The designer has been under siege on social media from Beyoncé fans after reportedly implicating herself as Jay Z's "side chick" in an Instagram post that same night. Even if it would be the perfect time for the fashionista to parade around a new boyfriend, it doesn't look like Rachel Roy is dating anyone, at least publicly, right now.
Just in case you haven't already watched Lemonade sixteen times or scrolled through Twitter in the past two days, Rachel Roy is allegedly the "Becky, with the long hair," that Beyoncé calls out in the song "Sorry," as the woman with whom Jay might have cheated on Beyoncé.
Right after Lemonade aired on Saturday night, Roy posted, and has since deleted, an Instagram photo of herself and a friend in a bathroom mirror, with the friend using her phone's flashlight as "lighting" to illuminate the picture better. "Good hair, don't care, but we will take good lighting for selfies or self-truths always," Roy posted in the caption. Bey fans immediately used the turn of phrase against her, since it appeared that she was implicating herself as the woman in question.
Beyoncé "fans" — and I use the quotation marks only because digital bullying is something the performer would probably not endorse — have been trolling Roy's social media feeds with any lemon-colored emoji they can dig up ever since, in addition to some pretty heinous comments about the acclaimed designer's character. As much as fans celebrated Beyoncé's artistry this weekend, Roy has been suffering from some pretty public shame.
Not that it could change anything now, nor does it matter, but it certainly doesn't seem like Roy is dating anyone at the moment. Her most recent, publicized romance (aside from a possible fling with Jay Z, come on people) was as the ex-wife of producer Damon Dash, who used to be Jay's business partner at Roc-a-Fella records. After their divorce in 2009, Roy secured sole custody of their teenage daughters and a restraining order against her ex-husband, that has since expired.
That Roy was also flying solo at a 2014 Met Gala after-party at the Standard Hotel in New York City — where Solange, Beyonce's sister, attacked Jay Z in an elevator — only serves as anecdotal evidence to back up the Bey Hive's rage in the wake of Saturday's premiere: In response to all of the hype surrounding Lemonade, Roy has cancelled a public appearance in Manhattan for Monday night "due to personal emergency," according to The New York Daily News. She also tweeted late Sunday that she respects "love, marriages, family, and strength," to no avail.
Although Roy deleted her original post about "good hair", and has chosen to stay out of the paparazzi's view for the time being doesn't mean Roy is going totally underground. This weekend, she posted a shot of a perfectly sliced lemon wedge on her glass of sparkling water. Any good publicist probably would have told Roy to avoid any citrus references at this point, so maybe she's clapping back at the Beyhive too.
Anyone who has ever been "the other woman" might empathize with Roy. Being the focus of so much hate is not a nice place to be. It's hard to be "side chick" and an alleged one at that. Despite how loved the "main chick" might be, there was a reason Beyoncé used some code to call out only one party, as it were, in her claim of infidelity and heartbreak in Lemonade. No one really knows the real story. If there weren't gossip mags from 2014 to turn up, or if Lemonade's themes of rage and sorrow, among other things, hadn't felt so real, Roy could have just shrugged herself backstage to stay out of it.
Lemonade is about so much more than whatever any side chick and Jay pulled off before Bey woke up to the news. Maybe it's time to ease up on Roy and silly gossip (or searching for that lemon emoji). There are 10,000 other things to talk about that don't involve Becky with the good hair or whether she's already moved onto a new boyfriend and left her past in the past. Let's focus on those instead.