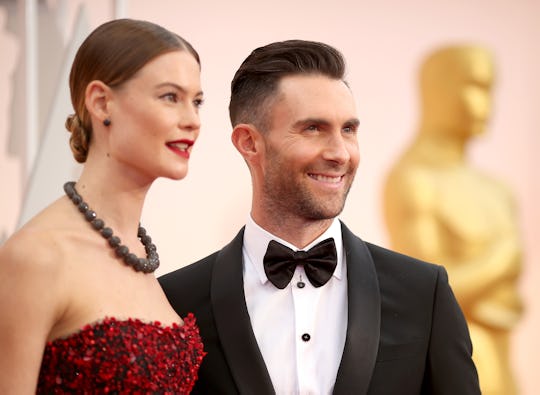 Christopher Polk/Getty Images Entertainment/Getty Images
Behati Prinsloo Shares The First Pic Of Gio's Face With A Sweet Message To Adam Levine
Back in February, Behati Prinsloo and Adam Levine welcomed their second daughter, Gio, into the world. To announce the special delivery, Prinsloo and Levine shared a picture of Gio's tiny feet on Instagram, and fans were overjoyed for the couple. But following the announcement post, the happy parents went radio silent on their new arrival. Luckily for fans, however, Behati Prinsloo debuted the first pic of Gio's face on Sunday following a period of quiet on the 'gram. The best part is the big reveal came in the form of a sweet Father's Day tribute to Levine. Needless to say, people are *loving* the post.
If you follow Prinsloo and Levine's social media accounts, you probably already know that they rarely share pics of their kids with fans. The only exception to this rule is when a special occasion arrives, like Father's Day. Last Father's Day, for instance, Prinsloo took to Instagram to share a glimpse of their then 10-month-old daughter, Dusty Rose. "Happy first Father's Day, you are EVERYTHING to us," Prinsloo captioned a black-and-white shot of herself posing with Levine and Dusty, according to Instagram. "I'm so proud of the kind of dad and husband you are. I can't do life without you!!! Luckiest girls alive." How sweet.
In an adorable twist, Prinsloo shared another black-and-white snap to commemorate Levine's second Father's Day. Although Dusty doesn't appear in the pic, Gio's face is front and center in the shot. And some fans probably noticed that this is the first public pic of little Gio's face ever.
"My first baby holding OUR second baby.....Our girls are so lucky to call you dad and I'm so lucky to have you as a husband a lover and a friend," Prinsloo captioned a pic of Levine staring into little Gio's eyes. "We love you. Life is better with you‍ ... "
It's really special how Prinsloo decided to showcase Gio's face for the first time via a touching message to Levine, and I can't think of a better way for the infant to make her debut. Plus, you can't beat the photo's casual vibe — I bet a lot of parents out there have photos similar to this one.
Following Prinsloo's post, fans took to the comments section to gush about baby Gio.
"Actual tears from the perfection of this picture," one commenter penned, according to Instagram.
"Your words are so beautiful, and the photo too," someone else said.
Another person chimed in: "How cute is this!!!"
Amid all the cute comments about Gio, some people wondered about Dusty's wherabouts. If I had to guess, I'd say Levine and Prinsloo will no longer show photos of Dusty going forward now that her 2nd birthday is right around the corner. It's not uncommon for celebrity parents to obscure their children's faces on social media once they graduate from the infant stage. Just ask comedian Jenny Mollen, who took to Instagram in April to explain why she no longer shows her 4-year-old son's face on social media. Mollen explained, according to People:
I don't post Sid's face bc my account is public and not only do I not want him recognized, harassed or interrupted in his daily life. I also don't think its fair to expose him without his knowledge and understanding. Laz is still just a head, doesn't leave the house and is morphing on a daily basis. But soon I will be blocking his face too. Thanks for understanding.
Yeah, I have a feeling this is the route Prinsloo and Levine will take. Although this move might be a bit disappointing for fans, all that matters is what Levine and Prinsloo are most comfortable with. And who knows, maybe the parents will continue to gift the public with sweet photos of their daughters on special occasions. It's the family's tradition, after all.