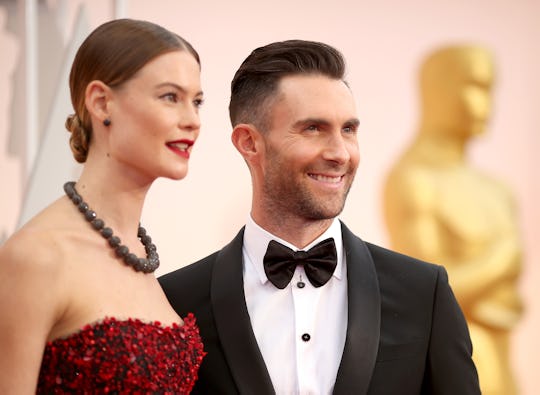 Christopher Polk/Getty Images Entertainment/Getty Images
Behati Prinsloo Shares A Rare Family Photo with Adam Levine & Their Daughters
Some celebrities, it seems, are an open book when it comes to their children. They freely share kid stories during interviews and provide regular updates/photos via social media. Others? Not so much. Actors Kristen Bell and Dax Shepard, Mindy Kaling, Ryan Reyonlds and Blake Lively — along with countless others — take great care to keep photos of their children away from the public eye, making the public even more curious about their private family lives. That's why Behati Prinsloo's rare family photo with Adam Levine and their daughters is such a treat: It shows they're having a blast with parenthood, even if nobody's watching.
On Friday, November 23, the mom of two shared a rare glimpse into her life with singer Adam Levine and their two little girls — Dusty Rose, 2, and Gio Grace, 9 months — via Instagram, People reported. The Victoria's Secret model took to Instagram to post a photo of herself and Levine pushing their children on a swing set, captioning it simply, "THANKFUL." As each parent gives one daughter a push, Prinsloo and Levine are clearly basking in the moment. And their two daughters? Well, it's difficult to tell whether or not they were also having a blast because they appear as blurs of motion in their swings.
Basically, not only is this an adorable family shot — but it also upholds the celeb-parents' no-identifying-kid-photos-on-social-media policy.
Back in May, Levine opened up with Ellen DeGeneres about the newest addition to his family, baby Gio, who was born in February. The dad of two and DeGeneres joked about the father-daughter foot resemblance, Inquisitr reported — because at that point, a picture of the newborn's feet was only photo evidence shared via social media. "We've only posted pictures, I think, of her feet," Levine said. "She has my feet, which is a bummer for her. Well, at least right now, maybe they'll change."
The Maroon 5 singer also revealed his desire for a large family with Prinsloo. "Oh yeah, we want like, a lot," he told the talk show host, when she asked if they planned on having any more children.
"Like five? Like Maroon 5?" DeGeneres jokingly inquired.
"We have to have a band of children," Levine replied.
Prinsloo herself shared a profound truth about parenthood back in August 2017, when she was still but a mother of one. "I think the fact that you could love a person more than you ever thought," she told People of what surprised her about becoming a mom, SheKnows reported. "I love Adam, and when you get married and you fall in love with someone, you think that there's no greater love than that love. And then you have a baby, and it's just next-level love." (I couldn't agree more, mama.)
Although Adam Levine and Behati Prinsloo tend to keep images of their kids mostly off social media, I love the ways in which they still manage to include their daughters from time to time. And I have no doubt that Prinsloo's Instagram followers were excited about her extra-rare family shot in honor of Thanksgiving. Because parenthood definitely suits this celeb couple — and I'm sure fans will enjoy watching their family grow as they work toward building a "Maroon 5" of their own.
Season 2 of Doula Diaries shares the stories of fearless doulas helping their clients take control of their births and make tough choices that feel right to them. Watch the first episode of the new season Monday, November 26th.