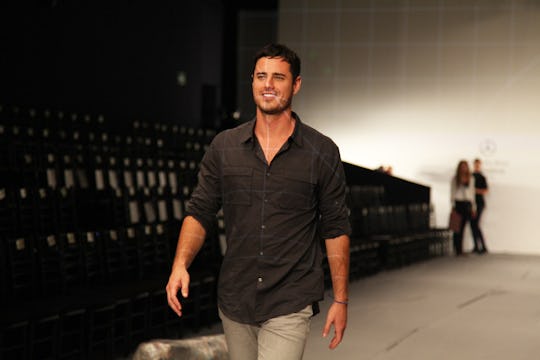 ABC/Eniac Martinez
Ben Higgins 'Bachelor' Memes That Are Guaranteed To Make You Smile
Being chosen to be the next eligible hunk on ABC's The Bachelor is not without its perks. Gorgeous babes, 25 of them to be exact, lining up to win your heart even before they've clapped eyes on you. Sweet vacations. Lots of hot tub parties with the aforementioned babes. And oh yes; an entire internet ready to make fun of your every move. The latest bachelor Ben Higgins has a wealth of memes dedicated to him in the name of love, lust, and just plain old guilty pleasure entertainment.
Just imagine going from a plain old business analyst in Denver to having your face plastered all over social media. It's a good face, mind you. A gee-whiz-all-these-girls-are-for-me? kind of face. Attached to a pretty decent set of shoulders, too. After trying his hand to win the heart of Bachelorette Kaitlyn Bristowe in Season 11 of that series, he was chosen to be the new King of the Hot Tub for Season 20 of The Bachelor. According to an interview with Us Weekly, he is of the wholesome, God-loving variety. Ben is from Indiana, he loves his family, pizza and is afraid of horror films. All information that's been beautiful fodder for memes.
Piglet and Ben. On account of his earnest little face. Look at him!
Or, hold on, maybe he's not so innocent. What's he looking at over there? Maybe it's her bandaged thumb. That definitely has to be it.
Ben likes to solve little mysteries here and there too. Nothing too major, just trying to ease the lady drama in a house chock full of gals who want nothing more than 30 minutes alone with Ben.
Also you know who can always trust? A high-fiver. Especially when he closes it with an excellent kiss.
But he's still a gentleman, ladies. If you end up heiny over tea kettle in a fancy dress, Ben will politely look the other way. All whilst sporting an embarrassed grimace.
And, as nice as it is to go on a date with a worldly fellow who knows his Pinots and his Malbecs, how adorable (or annoying?) is it that Ben still holds his delicate champagne glass like a ham-fisted lumberjack? Wearing a plaid shirt like a boss, no less.
But he's not always wearing a plaid shirt. Sometimes he is wearing no shirt and before you say anything; yes. You are most welcome.
The truth is, Ben seems like great husband/boyfriend material if that's your thing. Here's hoping he doesn't turn out to have a closet full of deep, dark secrets. Here's hoping he is really just a sweet, handsome, super-ripped dude who loves his mom and reads to puppets for photo-ops. Because that's perfectly fine.
(Ugh. Just look at him.)