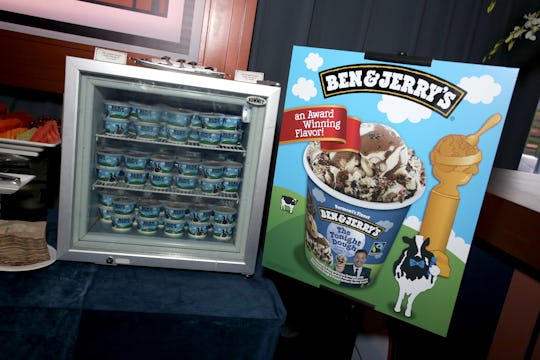 Rachel Murray/Getty Images Entertainment/Getty Images
Ben & Jerry's New Women's March-Inspired Ice Cream Flavor Is Ir-resist-ible
Few things in the world make me happier than a new flavor of ice cream. Who doesn't love a decent scoop of ice cream, right? Especially when it's served with a side of political activism. Now there's something you don't see every day. Ben & Jerry's new Women's March-inspired ice cream flavor is all about the resistance, although I have a feeling you'll have a hard time resisting the urge to buy a pint and eat the entire thing in one sitting.
The ice cream giant has been known to come up with some pretty great names for its new flavors as part of clever marketing campaigns in the past, of course. I mean, who could forget the Jimmy Fallon-inspired flavor "Late Night Snack," vanilla with chocolate covered potato chips and caramel swirls, from his days as the host of Late Night With Jimmy Fallon? Now that was delicious and funny. This most recent addition to the Ben & Jerry's family is about something more than a marketing campaign, however. As a spokesperson for the company told Romper via email, Pecan Resist is "a campaign to lick injustice and champion those fighting to create a more just and equitable nation for us all."
Pecan Resist is a limited batch ice cream flavor meant to "lift up those who are leading the resistance to Trump's regressive agenda," as per the company's press release:
The company cannot be silent in the face of President Trump's policies that attack and attempt to roll back decades of progress on racial and gender equity, climate change, LGBTQ rights, and refugee and immigrant rights – all issues that have been at the core of the company's social mission for 40 years.
Now if you're worried that this is simply another marketing campaign, fear not. Ben & Jerry's has decided to highlight four specific movements that the company feels are "focused on freedom, belonging, community, and justice," as noted in the press release. The first is The Women's March, the massive movement that has so successfully galvanized women of different backgrounds to harness their collective power to fight injustice and apathy.
The next organization Ben & Jerry's hopes to support is Color of Change, the largest online racial justice organization in the country who are "driven by more than 1.4 million members, we move decision-makers in corporations and government to create a more human and less hostile world for Black people in America," as per the movement's website.
Honor the Earth uses Indigenous music, art, and media to "create awareness and support for Native environmental issues and to develop needed financial and political resources for the survival of sustainable Native communities." And finally, Neta, "one of the fastest growing independent media platforms led by people of color in the U.S." Ben & Jerry's has provided extra information about each of these four movements on its website and is donating $25,000 to each as well.
Even the art work on the carton was designed by artist and activist Favianna Rodriguez. Ben & Jerry's CEO Matthew McCarthy said in a press release that he "couldn't be prouder" of this beautiful blending of political activism and delicious ice cream:
We couldn't be prouder or more excited to support these four organizations that are doing incredible work every day. Our goal is to use our company's voice, our ice cream, and our activism to encourage all Americans to support and help build the movements spearheading the resistance to President Trump's regressive agenda. We think it's more important than ever that citizens and businesses alike stand up and be counted.
Pecan Resist is available for purchase wherever you buy your favorite Ben & Jerry's ice cream as of Tuesday, just one week before the country hits the voting booths for the midterm elections. So what better way to celebrate making sure your voice is heard on Tuesday than to eat some resistance ice cream afterwards?
It's the little things that make all the difference.