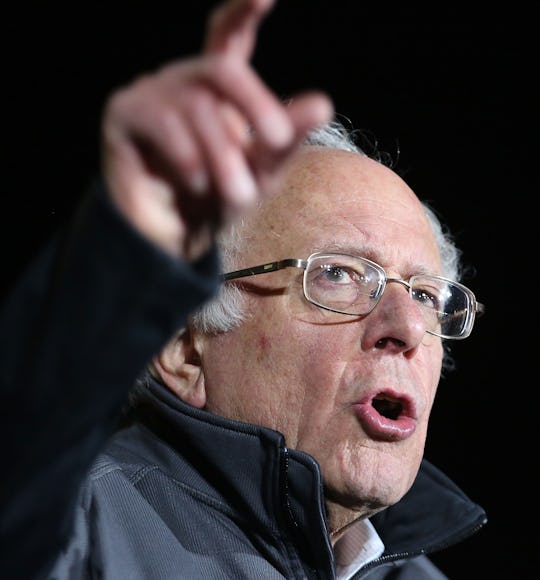 Spencer Platt/Getty Images News/Getty Images
Bernie Sanders Condemns "Democratic Whore" Comment & It Was A Wise Move
Healthcare activist Dr. Paul Song has landed Vermont Sen. Bernie Sanders in some hot water. During a speaking engagement at a campaign event on Wednesday to support the Democratic presidential candidate, Dr. Song blasted so-called "corporate Democratic whores", referencing the potentially toxic relationship between big corporations and politicians. Immediately following the statement, Sanders himself condemned the "Democratic whores" comment, in an attempt to set the record straight and perhaps use the slip-up to his advantage.
"Medicare-for-all will never happen if we continue to elect corporate Democratic whores who are beholden to big pharma and the private insurance industry instead of us," Song reportedly stated, in a speech for the pre-program of one of Sanders' largest campaign rallies to date (some estimates placed the crowd at around 27,000 total).
Many observers were quick to claim that Song had been directing his comments at former Secretary of State Hilary Clinton, Sanders' rival in the Democratic presidential race. Jennifer Palmieri, Clinton's campaign communication director, took to Twitter Thursday to urge Sanders to disavow the comment. "Very distressing language to say the least," Palmieri wrote.
While Song, husband of CNN's This Is Life host Lisa Ling, was quick to apologize after realizing his guffaw, attention quickly turned to Sanders, with many waiting to see how the senator planned to handle the inflammatory remarks made by one of his high-profile supporters.
Unsurprisingly, Sanders swiftly and publicly condemned Song's comments in a simple post on his official Twitter. "Dr. Song's comment was inappropriate and insensitive," Sanders wrote. "There's no room for language like that in our political discourse."
Song is the executive chairman for the Courage Campaign, an organization dedicated to economic justice as well as corporate and political accountability based in California. On Thursday, he insisted that his comments had nothing to do with Clinton and were directed at members of Congress. "I am very sorry for using the term 'whore' to refer to some in Congress who are beholden to corporations and not us," Song tweeted. "It was insensitive."
The previous evening, those comments had earned cheers from the huge crowd of Sanders supporters. But they also called into question the politician's responsibility for the behavior of their surrogates. The word "disavow" has been used liberally throughout this particular campaign, with political supporters on both sides making waves for their nominees.
In February, Clinton supporter and legendary feminist Gloria Steinem made a (now famous) comment on the talk show Real Time with Bill Maher regarding young women who were voting for Sanders simply because "the boys are with Bernie." A few days earlier, first female Secretary of State Madeleine Albright claimed that there was "a special place in hell for women who don't help each other", seemingly blasting those same female voters who were casting ballots for Sanders.
Those words seemed to leave a sour taste in female voters' mouths, with many accusing Steinem and the Clinton camp of "misunderstanding" feminism, according to The New York Times. "Shame on Gloria Steinem and Madeleine Albright for implying that we as women should be voting for a candidate based solely on gender," the outlet reported one female Sanders supporter as saying. "I can tell you that shaming me and essentially calling me misinformed and stupid is NOT the way to win my vote." Steinem later issued a retraction, but the damage was done. Clinton herself never apologized for either comment made by her supporters.
Sanders on the other hand was quick to condemn Song's "democratic whore" comment regardless of whether Congress or Clinton were the aim. Sanders wife Jane told CNN on Thursday that she hadn't heard the comment but that it was a "strange choice of words", in her opinion.
"I can't imagine that anybody was speaking about Secretary Clinton that way," she said. "I don't know who said that. All the campaigns really need to take some responsibility for what surrogates say."
With the race for the Democratic nomination tightening, Sanders' decisive action to condemn Song's comments was clearly the right move. But whether it will affect his campaign in the coming days is still up in the air.