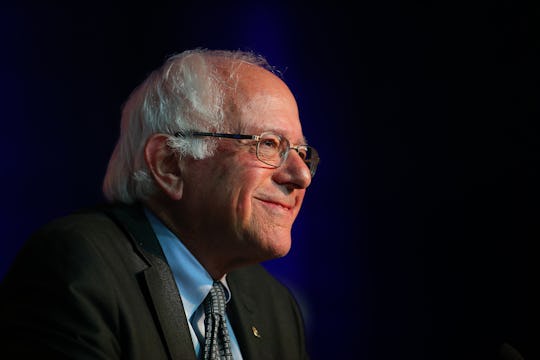 Adam Bettcher/Getty Images
Bernie Sanders Defends Ben Carson Amid Media Scrutiny, Urging Us All Yet Again To Stick To The Issues
Presidential hopeful Sen. Bernie Sanders has been pretty vocal about how the media has been covering the election cycle so far, and his appearance on NBC's Meet the Press today was no exception. Speaking with host Chuck Todd, Sanders defended opponent Ben Carson amid recent media scrutiny — which has called into question various anecdotes from Carson's past. Chief among them: Whether or not Carson really stabbed someone when he was 14, despite lots and lots of evidence that he wasn't; and if he really ever was offered a scholarship to West Point, when multiple outlets have reported he never even applied. (For the record, he wasn't, and Carson confirmed as much on Friday to The New York Times.)
But according to The Bern, all of this public scrutiny is detracting from the point, and it's time we all just take a step back and pay attention to what really matters. "I think it might be a better idea — I know it's a crazy idea — but maybe we focus on the issues impacting the American people and what candidates are saying, rather than just spending so much time exploring their lives of 30 or 40 years ago," Sanders told NBC. 
And then he hit the nail right on the head: "I think the reason that so many people are turned off to the political process has a lot to do with the fact that we're not talking about the real issues impacting the real people," he told host Chuck Todd. Instead, he said, Carson's policies spoke for themselves. He pointed out Carson's hard stance on health care, tax incentives, and climate change, noting, "This man does not believe climate change is caused by human activity."
Sanders clearly maintains that there are enough things to scrutinize when it comes to actual policy without having to dig into a particular candidates' past; and he's got a serious point there. It's also a view he's defended in the past — most recently when the media was circling around Hillary Clinton's email scandal. During the first Democratic debate, Sanders surprised and delighted TV viewers when he got fired up over debate moderators digging further and further into the controversy. "The American people are sick and tired of hearing about your damn emails!" Sanders exclaimed, in an effort to shift the conversation back to the real topics. 
Of course, in doing so, Sanders also came to Hillary's rescue, since she was clearly being sucked into defending herself yet again on a topic that has become somewhat of a dead horse at this point. And I'm willing to bet Hillary was pretty thankful to The Bern for that.
To top off his tirade on election coverage by the media, Sanders recently told MSNBC's Rachel Maddow that if he weren't in politics, his dream job would be to join CNN as its president. Hey, if he doesn't make it to the national presidency, maybe we'll see him tackle corporate media next. That would be awesome.
Images: Adam Bettcher; David McNew/Getty Images