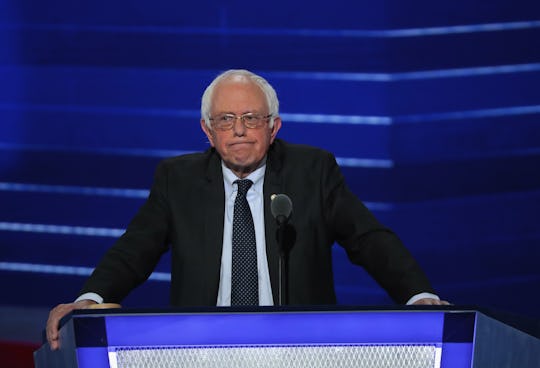 Alex Wong/Getty Images News/Getty Images
Bernie Sanders' DNC Facial Expressions Were "Nothing New", So Everyone Calm Down
Don't worry, guys, Bernie Sanders wasn't angry during Hillary Clinton's presidential nomination acceptance speech at the Democratic National Convention. That's just his face. No, really. The Vermont senator this week even told CBS' Face The Nation (no pun intended) that he always has that look on his face. Sanders explained that his DNC facial expressions at the DNC were "nothing new" — so everybody can just calm down already.
"I always have that look on my face," Sanders laughed. "That's nothing new."
It's been a long primary for both Sanders and Clinton. Following a year of fierce competition for the Democratic Party's presidential nomination, Bernie conceded at the convention in Philadephia last week and pledged his support to Clinton. "Hillary Clinton must become president," he said.
Some of Sanders' most loyal followers, though, were simply not having it. Scores of voters from the Bernie or Bust faction of the Democratic Party even staged protests at the convention, highlighting the divide among Democrats after the DNC email leak, which allegedly showed that a handful of DNC staffers had actively attempted to downplay Sanders' campaign through nefarious means. When the camera cut to Sanders at the convention during Hillary's acceptance speech, many thought he was just as angry as his supporters.
Sanders denied these claims, obviously, citing a chronic case of resting b-tch face (RBF) as the reason he looked so miserable during the speech. Sanders has stated repeatedly that he stands by Clinton wholeheartedly in her campaign against Trump. He wants to unite the Democratic Party under Clinton moving forward toward November 4 and has urged his diehard to supporters to join in that push. Many of those followers, though, believed his unhappy facial expression at the convention said something else entirely, despite the fact that Sanders has since stated otherwise.
Debate over whether or not Sanders' face "actually just looks like that" plagued social media for days, and Twitter happily chimed in with a variety of opinions:
Never one to stay quiet, Republican nominee Donald Trump also had some opinions on Sanders' expression, tweeting,
The dishonest media didn't mention that Bernie Sanders was very angry looking during Crooked's speech. He wishes he didn't make that deal.
Trump is apparently trying to capitalize on — and even widen — the divide between the Bernie or Bust supporters and Clinton's #ImWithHer supporters. Sanders, in turn, was quick to remind everybody that it's really just his face, guys. He reassured the world that he's simply just not the smiling-all-the-time kind of guy.
Not that he needs to remind everyone of that, of course. Let him live.