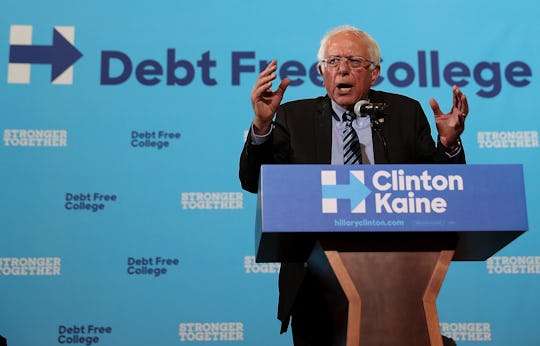 Justin Sullivan/Getty Images News/Getty Images
Bernie Sanders' Live Tweets During The Debate Prove What Side He's On
Twitter exploded during final presidential debate Wednesday night, and it might be one of the former Democratic presidential candidates making the most noise. Bernie Sanders's live tweets during the debate prove what side he's on — he's with her.
It hasn't been a huge secret that the senator from Vermont has backed the Democratic presidential candidate Hillary Clinton. Despite a long campaign that he hoped would lead to him cinching the Democratic nomination for President of the United States, Sanders endorsed Clinton for president at a joint rally earlier this summer, reported CNN.
I wouldn't go so far as to say that Sanders agrees with everything Clinton is proposing in her campaign. Rather, Sanders seems to have allied himself with Clinton for one purpose — to defeat Donald Trump. According to The New York Times, before officially suspended his campaign, Sanders said he'd vote for Clinton so that he could help defeat Trump. Uniting the Democratic party hasn't been easy amidst the scandals earlier this summer surrounding Bernie Sanders's campaign, but when your goal is to beat the enemy, it seems everyone's on board — even Sanders. Tonight, Sanders live tweeted the final presidential debate and made that goal even more clear.
Earlier this month, audio clips leaked of Clinton found the Democratic presidential candidate speaking of Sanders's supporters and calling them, "children of the Great Recession", according to CNN. Although those against Clinton may have hoped to cause a rift between the former rivals, Sanders didn't take the bait. CNN reported that while some of the comments Clinton made bothered Sanders, he also suggested that some of the previous statements he made about her already proved they had differences. But Sanders also noted that since the primaries, the two of them have worked together on proposals such as affordable public college tuition and expanding health care access.
It's obvious that no matter who won the Democratic presidential nomination, Sanders was never going to stop speaking his mind or fighting for his supporters and other Americans. His tweets also prove that a united front is the best defense against a candidate like Donald Trump, especially when the Republican party seems to be having a difficult time agreeing on anything. And even though his campaign didn't make it to the election in November, Sanders is still determined to give America the best it can. And right now? That's Hillary Clinton.