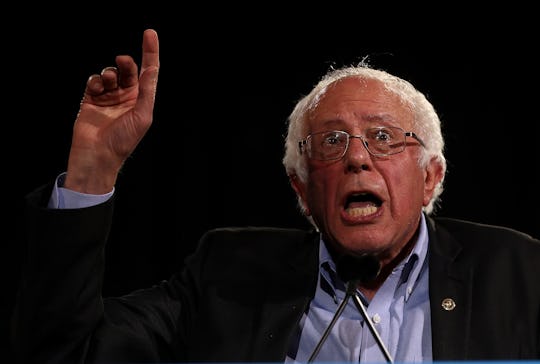 Justin Sullivan/Getty Images News/Getty Images
Bernie Sanders' Reaction To Donald Trump As President Has Been Near Silence
As the nation tries to come together after the divisive, fractious 2016 general election, we have a lot on our minds. For one, how did we get here? As a country, the United States feels ripped in two as Hillary Clinton supporters mourn for the hope they lost when she was defeated at the polls by GOP candidate (and now president-elect) Donald Trump. Trump supporter celebrate even as they continue to chant "Lock her up" after Clinton's humbling defeat. Another question on my mind, at least; how is Bernie Sanders reacting to this Trump presidency? The tenacious senator from Vermont has been ceaseless in his criticism of Trump from the beginning of the presidential campaign season.
So far, the usually outspoken Sanders has been uncharacteristically silent about the results of Tuesday's election. Sanders was busy campaigning for Clinton right up until the day before the election, hoping to bring the weight of his 13 million supporters to the Clinton camp to defeat Trump. Sanders has reached out to his own pool of voters and reminded them at rallies and via social media that "this is an election of enormous consequence. I hope everybody gets out to vote." Well, it looks as though everybody did get out to vote. Unfortunately, the voting did not go as Sanders may have hoped.
As Democratic presidential nominee Hillary Clinton was giving her concession speech at the New Yorker Hotel on Wednesday morning, a top adviser for Sanders' cryptically told CNN reporter Jeff Zeleney that the Sanders' campaign, "has nothing polite to say right now."
This must be difficult for Sanders; after he conceded the Democratic presidential nomination to Hillary Clinton, he has been working hard to support her as a candidate despite some possible mixed feelings. After all, WikiLeaks did release emails from inside the Democratic National Convention that proved at least a heavy slant in favor of Clinton before the primaries were through. Clinton was the preferred candidate, Sanders was not. End of story. So, despite Sanders' incredibly strong numbers in the polls and his popularity with youth and minority voters in particular, he was defeated. By his own party.
And now there's talk that he would have had a better chance of defeating Trump. Back in May and June, when Sanders was still considered a viable Democratic presidential candidate, Real Clear Politics found Sanders polling at a 10 point average about Trump; 49.7 percent to Trump's 39.3 percent. Was it because both candidates considered themselves anti-establishment, outsiders looking to take down a corrupt system? I guess we'll never know.
No wonder Sanders isn't ready to talk about Trump's imminent arrival in the Oval Office just yet. Although I have to say, I can't wait to hear what he has to say when he does finally open up. I'm betting it's going to be great.