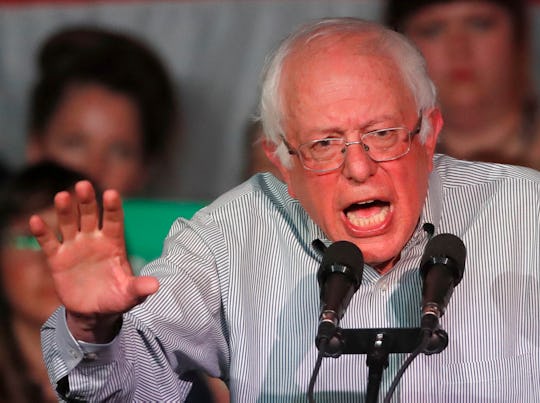 George Frey/Getty Images News/Getty Images
Bernie Sanders Strongly Denounces Alexandria Shooter
It is one thing to disagree with someone's political agenda or idealogy. It is quite another matter to harm them. This was what Vermont Sen. Bernie Sanders said in response to the Alexandria shooting on Wednesday morning, according to CBS News. A group of Republican lawmakers were at a congressional baseball practice in Virginia when an alleged shooter opened fire, injuring five people before being shot himself. The alleged shooter later died of his injuries in the hospital, having been shot by Capitol police officers, according to CBS.
The alleged shooter, James T. Hodgkinson, reportedly volunteered on Sanders' presidential campaign in 2016. When Sanders was informed of this fact, he took to the Senate floor to quickly and publicly denounce the shooter's actions, saying that he was "sickened" by the despicable act of violence, according to CNN:
I have just been informed that the alleged shooter at the Republican baseball practice is someone who apparently volunteered on my presidential campaign. I am sickened by this despicable act. Let me be as clear as I can be. Violence of any kind is unacceptable in our society and I condemn this action in the strongest possible terms. Real change can only come about through nonviolent action, and anything else runs against our most deeply held American values.
One of the injured lawmakers was Republican House Whip Steve Scalise from Louisiana, according to CNN. Scalise was reportedly shot in the hip and rushed to the hospital, where President Donald Trump said in a press conference that he is in stable condition and recovering. Sanders wished Scalise a speedy recovery in his statement denouncing the shooting, saying:
My hopes and prayers are that Representative Scalise, congressional staff, and the Capitol police officers who were wounded make a quick and full recovery. I also want to thank the Capitol Police for their heroic actions to prevent further harm.
Unfortunately, the news that the alleged shooter volunteered for Sanders appears to be making the rounds of social media. Sanders' critics were quick to point the finger at the former Democratic presidential hopeful, in some cases accusing him of using hateful rhetoric to incite violence against his political opponents, namely Trump.
But here is what this accusatory behavior accomplishes in the end: nothing. Other than exonerating an alleged shooter of any blame for his actions. The accusations that say Sanders is to blame for the shooting pit two opposing parties against each other, yet again. It's a cycle that will continue to perpetuate hate and fear.
Bernie Sanders didn't shoot anyone, and he vehemently condemned the actions taken by the shooter (unlike Trump when Nazis endorsed his campaign). And using a senseless act of violence to promote a political agenda is a colossal waste of time.