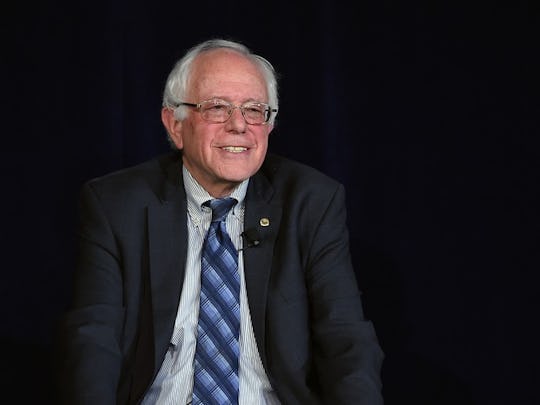 Ethan Miller/Getty Images News/Getty Images
Bernie Sanders Wins 'TIME's Person Of The Year Reader Poll, But That's About It
The 2016 Grammy Nominations are the buzz today, but there's another big honor to talk about: TIME's Person of the Year. The reader poll closed Sunday night, and Vermont Senator and Democratic presidential candidate Bernie Sanders won TIME's Person of the Year reader poll, with 10.2 percent of the votes. That's almost twice the votes earned by the second-place winner, education activist Malala Yousafzai, who earned 5.2 percent of the votes. Sanders, The Democratic hopeful trounced other 2016 presidential candidates, including Donald Trump, who earned 1.8 percent; Hillary Clinton, who earned 1.4 percent; Carly Fiorina with 0.6 percent; and Ted Cruz and Jeb Bush, who tied with 0.5 of the votes.
Other nominees of note included late night host Stephen Colbert with 3.1 percent of the vote and singer Adele with 2.3 percent. Your favorite comedian/actress/writer/director producer Amy Schumer nabbed 1.4 percent of the vote, tying her not only with Clinton, but also with American Pharoah, who is not a person at all, but a horse. Canadian man and bad dancer Drake scored 1.1 percent, which put him ahead of the world's most famous Kims, Kardashian and Davis (0.7 and 0.6 percent, respectively).
This would be great news for Sanders supporters if TIME's readers were the only people to vote in presidential elections, but that's not the case. The latest polls for the Democratic nomination show Clinton way ahead, at 56 percent, while Sanders has just over 31 percent.
The vote unfortunately also doesn't put Sanders any closer to becoming Person of the Year. That decision is made by the editorial staff, and TIME's editors actually aren't so much feeling the Bern. Their shortlist of Person of the Year contenders was announced Monday morning, and Bernie's nowhere to be seen. The full list of possible choices (in alphabetical order) entails: ISIS leader Abu Bakr Al-Baghdadi, Black Lives Matter activists, reluctant trans activist Caitlyn Jenner, Uber CEO Travis Kalanick, German chancellor Angela Merkel, Russian president Vladimir Putin, Iranian president Hassan Rouhani, and former reality show host Donald Trump. The winner will be announced Wednesday morning on The Today Show.
Image: Ethan Miller/Getty Images News/Getty Images