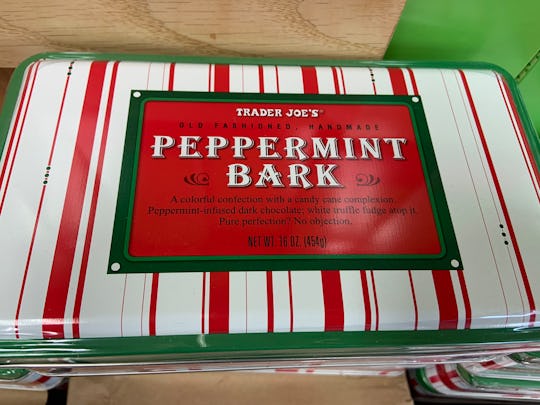 Courtesy Kinsey Gidick
These 20 Holiday Desserts From Trader Joe's Are The Bomb Diggity
Beginning to feel like the holiday party season just won't quit? I am. Oh sure, it's great to mix and mingle with friends and fam throughout the month of December. But I don't think I'm the first mom to have received one too many holiday cookie swap invites and thought, "think they'd notice if I just brought Trader Joe's cookies?" The answer: If they're your real friends, they won't care. With that in mind, I hereby give you the green light to pack a store-bought dessert to any of your remaining seasonal parties. I'll even give you a list of the best holiday Trader Joe's desserts to do just that.
But first, let's set some ground rules:
1) A dessert is whatever you say it is.
At this point in the season, when you're running on candy canes and adrenaline trying to get all the holiday shopping, card writing, and present wrapping done, you don't have time to debate whether ice cream sandwiches are holiday desserts (hint: they are. I'll prove it in a sec.) Bring what makes you happy and be done with it. Any host who wants to debate your choice needs to bone up on her Emily Post etiquette.
2. Something can still be dessert even if it isn't tooth-achingly sweet
Sure, kids love to inhale Lemon Heads and Gum Drops as they decorate ginger bread houses, but you're an adult, and if the idea of chomping on a Red Hot bedazzled gingerbread man makes you gag, that's OK. (See: Rule No. 1.) Dessert could be a plate of sweet fruit if you like. You decide.
3. Any party with dessert should be a "Treat Yo Self" safe space
What do I mean by "Treat Yo Self" safe space? I mean that if desserts are on the menu, it better be a guilt-free environment. You want to eat six cookies and call it lunch? I am not going to judge you. So grab another handful of those Mini Dark Chocolate Mint Stars. You can revisit your wellness plan in the new year — or not.