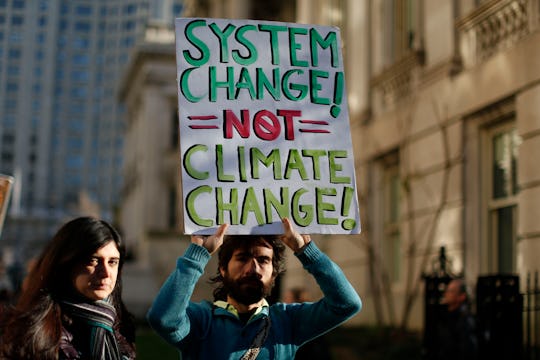 Kena Betancur/Getty Images News/Getty Images
Best Signs From The People's Climate March
The heat wave that hit Washington on Saturday was almost grotesquely poetic. Temperatures were expected to climb to 90 degrees in the nation's capital. And the streets were filled with activists marching to protest President Trump's inaction against global warming. Thousands of people took to the streets regardless of the heat, in Washington and other cities across the world, for the People's Climate Movement. They protested, they railed against the establishment, and of course, they created amazing art work. The best signs from the People's Climate March prove we do still have one thing to thank President Trump for; if all of these creative geniuses weren't so riled up, we never would have been treated to their poster ingenuity. And that's something, right?
The People's Climate March is being held on Trump's 100th day in office. The main march, which was expected to draw at least 12,000 people, is being held in D.C., but over 200 sister marches are being held across the country as well. According to their website, this march is being held to protest President Trump's environmental policies. Since he has taken office, Trump has announced his intention to slash the EPA's budget, called for a review of President Obama's landmark Clean Power Plan, and plans to mine the oceans and federally-owned lands for fossil fuels.
The EPA has also erased significant scientific data which supports climate change and global warming from its website.
And so, as the slogan for the People's Climate March reads,
We resist. We build. We rise.
Some signs were a brilliant reminder to President Trump that this particular resistance plans to settle in for the duration.
Other signs might have been more succinct and to the point, but this one was held by Leonardo DiCaprio so it wins everything.
I can just picture him sitting at his kitchen table with his markers, working to color in his letters. Few things make me happier, or make me want to protect our planet, than Leo.
OK, maybe Ryan Gosling.
This sign was a different sort of reminder.
While this was a very depressing prediction of our future.
This ingenious sign-maker must have figured President Trump might be keener to get on board with climate change if it felt closer to home. His favorite home.
Of course, one sign is never enough. To make change, you need a lot of signs held by a lot of arms by a lot of passionate people.
If Trump's next 100 days as president look anything like his first 100 days (a disastrous attempt at repealing Obamacare, a travel ban against primarily Muslim countries blocked not once, but twice, by the courts, and a renewed interest in rolling back Obama-era regulations against fossil fuels), he might want to settle in for more marches. Because these activists look to be in it for the long haul.