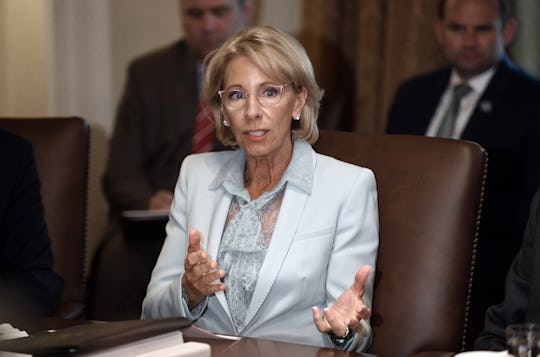 Pool/Getty Images News/Getty Images
Betsy DeVos Is Reportedly Trying To Arm Schools With Guns Using Federal Funding
While most logical people have responded to the rise of school shootings in the United States by calling for stricter gun safety laws, some still seem to think the solution is "more guns." Education Secretary Betsy DeVos reportedly wants to arm schools — and not only that, but she allegedly wants to do so using federal funds.
The Education Department, which is run by DeVos, is reportedly discussing whether states should be allowed to use federal money to buy guns for educators, The New York Times reported on Wednesday. The newspaper's source for the info is "multiple people with knowledge of the plan." The Education Department did not immediately respond to Romper's request for comment.
Specifically, the Education Department is considering a program called Student Support and Academic Enrichment grants. The program simply does not address anything about restricting schools from buying weapons, The New York Times explained. That omission would let DeVos "approve any state or district plans to use grant funding for firearms and firearm training," according to the outlet.
Liz Hill, a spokeswoman for the Education Department, issued a statement about the information. "The department is constantly considering and evaluating policy issues, particularly issues related to school safety," Hill said, according to CNN. "The secretary nor the department issues opinions on hypothetical scenarios."
In February of this year, a gunman opened fire on Marjory Stoneman Douglas High School in Parkland, Florida, killing 17 students and faculty members. Shortly after the tragic attack, President Donald Trump proposed that the United States start arming educators, The New Yorker reported at the time. "Armed Educators (and trusted people who work within a school) love our students and will protect them," Trump tweeted. "Very smart people. Must be firearms adept & have annual training. Should get yearly bonus. Shootings will not happen again - a big & very inexpensive deterrent. Up to States."
Many people criticized Trump's proposal. Dr. David Hemenway, a health policy professor at the Harvard School of Public Health, who is also known as an expert on gun violence, spoke with NBC News about the idea. "It's a crazy proposal," he told NBC News. "So what should we do about reducing airline hijacking? Give all the passengers guns as they walk on?" And Avery Gardiner, a co-president of the Brady Campaign to Prevent Gun Violence, told NBC News that the idea was "colossally stupid."
This week's reports are causing similar backlash. Sandy Hook Promise is a non-profit organization led by people whose loved ones were killed during the 2012 shooting at Sandy Hook Elementary School in Connecticut, according to the organization's website. On Thursday, Sandy Hook Promise shared a press release on its website formally condemning the Education Department's reported plan to arm teachers. Mark Barden, who co-founded Sandy Hook Promise after his son Daniel was killed in the 2012 shooting, is also the organization's managing director. He said in a statement shared in the press release:
We wholly reject this proposal to fund the arming of teachers in our children's classrooms. While we welcome ideas to keep students safe, the Department of Education's proposal is dangerous and misguided. No teacher should have to carry the responsibility of taking a student's life in a shootout. Teachers and school administrators should be focused on education, not weapons training. We must invest in solutions to stop violence in our schools before it happens. Our Know the Signs programs, have been proven to help students and teachers identify, intervene, and get help for someone at-risk of doing harm and eliminate the need for any weapon to be introduced into the equation.
So, what can concerned citizens do about all this? Sandy Hook Promise recommends calling the Education Department (the website has a script you can follow) to urge Betsy DeVos not to arm educators; suggesting that your child's school adopts the Know the Signs programs to help identify and avoid potentially dangerous situations; and contacting your legislators and asking them to support the Extreme Risk Protection Orders (ERPOs), which, according to ABC News, are laws that allow guns to be temporary removed from people who may be a threat.