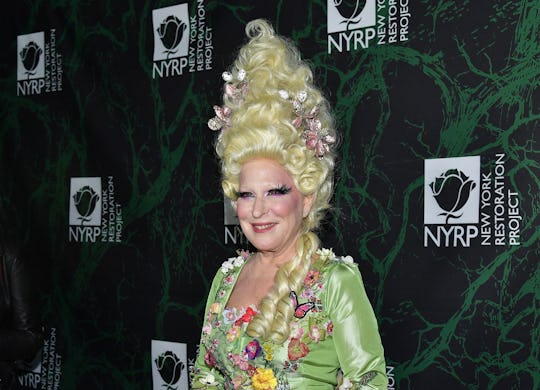 Dia Dipasupil/Getty Images Entertainment/Getty Images
Bette Midler Celebrates Halloween By Watching 'Hocus Pocus' Just Like You
It has been 25 years since the world first met the Sanderson sisters of Hocus Pocus. You know the ones; wicked Winifred Sanderson, sultry Sarah Sanderson, and the oddly sweet Mary Sanderson. Well, as sweet as one can be when you're a witch who is obsessed with sucking the souls of little children in order to stay youthful looking. The Disney cult classic is an absolute must-watch this time of year in my house, and I'm glad to know I'm not alone. Winifred Sanderson herself, the one and only Bette Midler, watched Hocus Pocus to celebrate Halloween this year after a 20-year break. And just like the rest of us, she totally loved it.
After initially being released to almost no fanfare back in 1993, Hocus Pocus has become a seasonal mainstay in the past 20 years. Thanks in no small part to Midler, whose character was so wildly out of control (let alone that red hair and amazing costume) that fans became obsessed. Not just with her, of course, but with the entire cast; I mean, her sisters were played by Sarah Jessica Parker and Kathy Najimy, two seriously famous actresses in their own right. When you think of those three powerhouses chasing children through the streets to steal their souls and then throw in a talking cat; how could you not watch it?
Not even Midler herself can resist the pull of Hocus Pocus any longer, as she told Us Weekly on Monday night in New York City:
I do not watch it regularly. In fact, I had not seen it in at least 20 years. I watched it the other night, the night of the anniversary or the night before the anniversary, because I said, 'You know what? I better look at this again.' So I watched it and I loved it! I loved it!
So here is what I love about Bette Midler other than everything all the time; the iconic actress and singer admitted that she was only focused on herself during previous viewings of the movie, but decided to give her co-stars a look this time around, as she told People:
I thought it was so funny! The first time I watched it I was only watching myself. But this time I saw everybody. And I tell ya, those girls in the back — they were going full blast! They were giving me a run for my money. The kids were great, everybody was great!
Midler isn't the only cast member to be enjoying a little Hocus Pocus quality time these days; Freeform got the entire cast together for a 25th anniversary special as part of the network's 31 days of Halloween on Oct. 20, Entertainment Weekly reported — even the Divine Miss M, who was apparently so excited in the days leading up to the reunion that she filled her Instagram feed with still shots from the movie.
I was already going to watch Hocus Pocus for Halloween no matter what, if I'm being honest. But to know that the head Sanderson sister herself is also watching it and totally loving it?
Amazing.