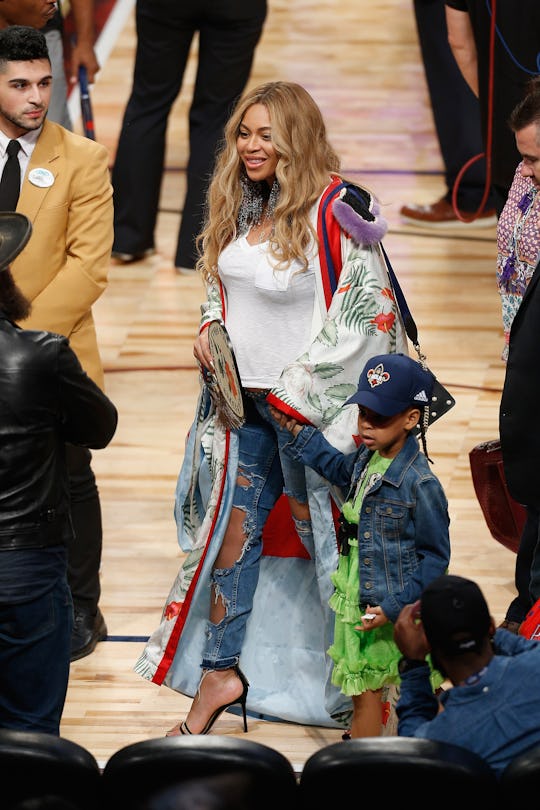 Jonathan Bachman/Getty Images Sport/Getty Images
Beyoncé & Blue Ivy Are Courtside-Fashionable
Sunday nights are often the best time for families to schedule some time with each other, for better or worse. Everyone's usually home, but there's only so much bonding that can be done after a botched attempt at pancakes or a visit to grandma's house. The Sunday family time vibe can only last for so long, which is why Beyoncé and Blue Ivy at the NBA All-Star game in New Orleans on Sunday night is pretty much everything. If there was ever a "perfect" family, it would be Beyoncé, Jay-Z, and Blue Ivy trying to get some alone time before the twins arrive, and as it turned out, even they had a few parenting issues to deal with too.
On Sunday night, it looked as if Jay and Beyoncé had to tussle with Blue Ivy to get into a comfy dress and to sit courtside with them at the NBA All-Star game. She was not a natural fan of anything happening on the court. Apparently, even Bey and Jay are just like us: Sometimes the kids are bored AF and you have to distract them.
Blue Ivy, 5 years old, sat right between her dad and mom, not even understanding how badass she looked in a $1,780 Gucci ruffled dress, a pair of low-top black Converse, and a jean jacket. She came to chill and eat all of the concession food that was offered, with a little help from her mom. (Because one of the many perks of motherhood is eating your kid's junk food, let's not dance around the issue.)
Beyoncé too looked incredible, as usual, wearing jeans, heels, and a silk kimono from the Gucci 2017 fall collection. If you must get out of your sweatpants and away from bad TV re-runs on a Sunday afternoon to sit court side and watch the NBA All-Star game with dad, or Jay-Z, donning some Gucci apparently helps.
Regardless, it seemed Blue Ivy just wasn't feeling it, despite the cotton candy, Gucci, and the fact that her mom is Queen Bey. But hey, she's a kid, right?
Courtside Doesn't Mean A Great View Of The Board
"What is going on?"
"Got It, This Is Going To Be Way Longer Than Frozen."
"So, we're just rooting for everyone? I don't get it."
"There's Food??!"
Pass the snack cash.
"Tell Your Dad To Get Us Some Cotton Candy."
"What about nachos?"
Best Thing Ever
"Sure, this is all for me."
"I Made You."
The Mom Tax is real, Blue.
There Are Still 30 Minutes To Go
Blue Ivy is obviously the best person to go to any event with, as she knows just how to work the concession stand and what to order.
The 5-year-old is bound for greatness, and not just because she knows that cotton candy and Gucci pair well: She's about to be a big sister, too. Beyoncé announced earlier this month that she is expecting twins. So let's just hope that Jay and Beyoncé can get a bunch of courtside seats in a row next year for the whole fam. Or at least let Blue order enough food to make everyone happy.