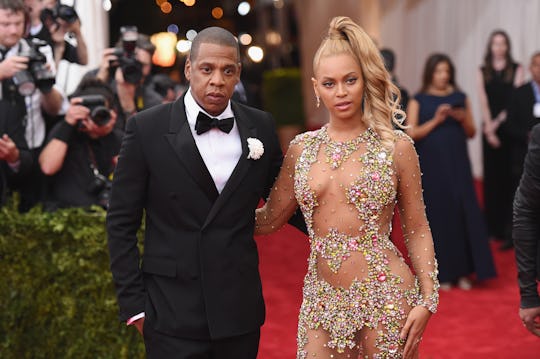 Mike Coppola/Getty Images Entertainment/Getty Images
Beyonce Dedicates 'Halo' To Her "Beautiful Husband," & Twitter Can't Deal With It
Beyoncé kicked off her "Formation" World Tour last night in Miami, and despite the release of her visual album Lemonade, which seems to tell a dramatic story of infidelity, lies, and heartbreak, she let her fans know in no uncertain terms, she and her bae Jay Z are still going strong. So she did what any internationally-famous star would in the same position: Beyoncé dedicated her performance of "Halo" to her "beautiful husband." She also threw in an "I love you so much." Sweet, but am I the only one who's totally exhausted trying to follow along with this? It's been a real emotional roller coaster of emotions this week, and Twitter definitely agreed.
It started with the Saturday premiere of Lemonade on HBO. As the first few videos played through, it started to look like the whole album might be one very artsy divorce announcement. Take that, conscious uncoupling. But that couldn't have turned out to be more wrong. By "Sandcastles," it was obvious the very famous couple had made peace and come through the other side of whatever strife they might have had in their marriage and were stronger for the experience. Or maybe that's just what you're supposed to think. Either way, Lemonade is nothing if not the sickest burn on a cheating partner. And Beyoncé fans loved every second of it.
Maybe Beyoncé felt bad putting her husband on blast so hard (or felt bad for making people think that's what she was doing). That could explain why she wanted to give him a special shout out from the stage. If you're confused about how to react, you're not alone.
Regardless of all of Jay Z's alleged shady behavior, one thing is crystal clear from watching Lemonade: Beyoncé loves that man and she doesn't care who knows it. I mean, if something did happen (some believe that album could actually be about Beyoncé's dad), then he is being publicly shamed for his alleged infidelity. Then again, he likely will share the piles and piles of money Beyoncé will make from the Formation World Tour.
But, if there was infidelity, then the couple's choice is brave. They put their dirty laundry out for the world to see. It was brave on both of their parts, too. Women today are told that infidelity of any sort is a non-negotiable deal breaker and that any woman who stays with a man who betrayed her has to be stupid or weak. If Jay Z did cheat on her, Beyoncé's willingness to expose that betrayal and the reasons behind her forgiveness of her husband is pretty damn amazing. But, many who have taken the album at face value and assumed it's about the couple have already started shaming Beyoncé — most notablely, Azealia Banks.
Still, the album could be entirely metaphorical. Regardless, it's clear that the artist probably isn't going to leave Jay Z anytime soon, and fans can put aside divorce rumors and judgment for the time being. One important thing to remember about Lemonade: it's art, and who knows where Beyoncé actually got the inspiration for it (but at least she did).