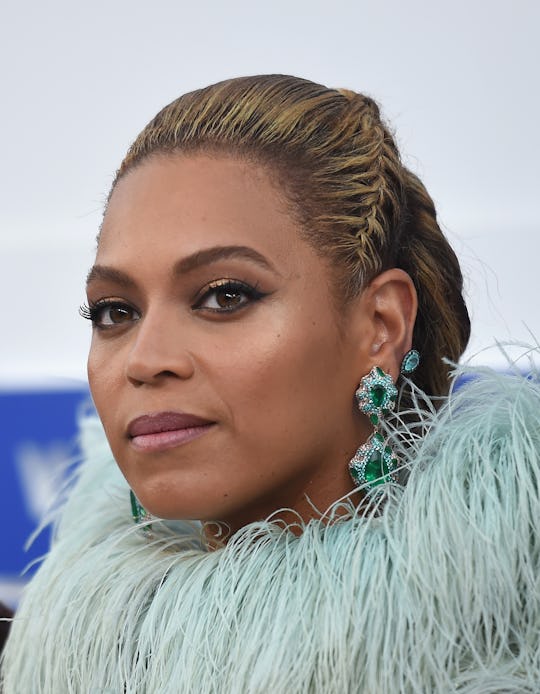 Jamie McCarthy/Getty Images Entertainment/Getty Images
Beyonce Dedicates Her VMA To The People Of New Orleans, Reminds Us There's Work To Do
Towards the end of the 2016 MTV Video Music Awards, Beyoncé won the moon man for "Best Video of the Year." During her acceptance speech, Beyoncé dedicated her VMA to the people of New Orleans, reminding viewers that there is still work to be done post-Hurricane Katrina. Sadly, it takes arguably the most powerful superstar in music to remind this country (and the world) that so much of New Orleans remains battered and bruised following the devastating 2005 Hurricane Season.
Although it's been over 10 years since Hurricane Katrina hit, killing 1,836 people in both Luisiana and Mississippi, many New Orleans neighborhoods are still struggling to recover. The Lower Ninth Ward, for example, remains a reported "work in progress," essentially all but forgotten by a society that has "moved on" from the devastation left in Hurricane Katrina's wake, according to The Atlantic. Which is why Beyoncé's "Formation" video was poignant for so many important, memorable reasons; reasons that left her open for criticism, but also attributed to her winning the award for "Best Video of the Year." Not only did Beyoncé highlight the recent police killings of African Americans in her music video, she highlighted the Ninth Ward — an area that is still reeling from Hurricane Katrina, still attempting to pick up the pieces, and still in need of funding and resources to restore important neighborhoods to what they once were.
It comes as no surprise that Beyoncé''s acceptance speech wasn't the only though-provoking moment of the night. Queen Bey opened her powerful VMA performance with an image evoking the Black Lives Matter movement; women of color being "shot" and falling to the ground, then a man walking up behind Beyonce in a hoodie, catching her as she falls. According to Billboard, Beyoncé also brought the Mothers of the Movement to the VMAs; the mothers of Trayvon Martin, Eric Garner, Oscar Grant, and Mike Brown: Sybrina Fulton, Gwen Carr, Wanda Johnson, and Lesley McSpadden.
Although it would be easy (and honestly, well-earned and completely understandable) for Beyoncé to take the time afforded to her on the VMAs stage to focus on herself, her accomplishments, her fans, her family, anything and all things evolving her and only her, she shed light on important cultural moments (and ones our society has forgotten, like Hurricane Katrina and New Orleans). This shows that Bey is dedicated to making a different, evoking necessary change, and being a voice for the voiceless. She is going to use her extremely public platform to not only express herself, but express what so many people can't, or what so many people have been expressing but what others refuse to hear. Beyoncé is the soundboard of her people. After all, that's what it means to be Queen.