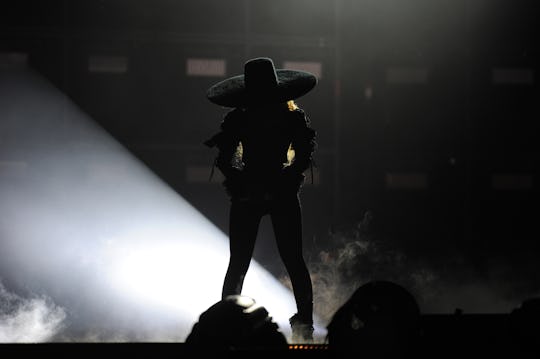 Handout/Getty Images Entertainment/Getty Images
Beyoncé Displays The Names Of Black Men & Women On Her Tour & Makes A Powerful Statement
Beyoncé is not the kind of celebrity to sit back and watch things unfold. As seen in the music video for her music video for the song "Formation," and in her song "Freedom," Beyonce knows that injustice exists out there and is willing to take a stand. Therefore, when Beyoncé displays the names of black men and women on her tour, she makes an incredibly powerful statement.
Sometimes, silence is all it takes to make a statement that speaks a thousand words. In a photo from Beyonce's most recent stop in her Formation Tour in Glasgow, Scotland — the singer with a lot to say says nothing at all. In the photo, Beyonce stands tall with her microphone at her side and three other dancers behind her. She looks into the crowd, with a solemn and serious look on her face. Behind her is a screen that reads a list of the names of black men and women who have died due to police brutality, ending with the words "and countless others." It is a sobering list of names to look at — starting with the names of Alton Stirling and Philandro Castile — and gets a huge message across in such a simple way. These are the names of black men and women whose lives were taken away from them. Black lives matter.
While the image was projected behind her, Beyonce gave a beautiful a capella performance of her song, "Freedom" — that has lyrics that have never been more relevant in this current moment.
The lyrics talk of Beyonce's desire for freedom and to break free from the chains that restrict her. In her performance last night, the lyrics were especially pertinent, especially when Beyonce changed the "I" to "we" in the chorus of "Freedom."
Freedom, freedom I can't lose. Freedom, freedom where are you? 'Cause we need freedom too. I break chains all by myself. Can't let my freedom rot in hell. Hey! I'mma keep running cause a winner don't quit on herself.
This comes on the heels of Beyonce posting a letter on her website Thursday night that makes just as powerful of a statement as her performance does — taking her stand even further. The letter is stirring and makes a simple call to action. "We don't need sympathy. We need everyone to respect our lives." When clicking on Beyonce's statement, the link leads to places where people can contact their politicians and legislators to urge them to make a change.
Beyonce's statement is one that speaks a thousand words and forces everyone to recognize the lives of those who were lost to police brutality and recognize their names. Their lives matter. Their names should not be forgotten.