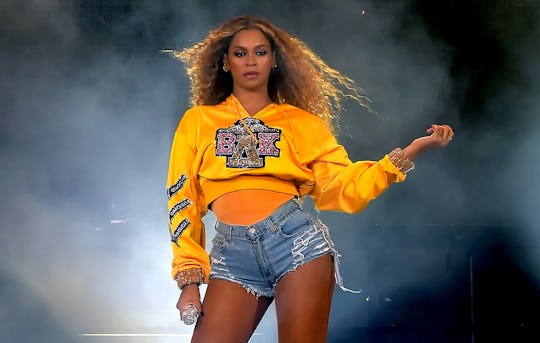 Kevin Winter/Getty Images Entertainment/Getty Images
Attention Beyhive: Beyoncé Shared A New Photo Of Rumi & Sir That You Won't Want To Miss
While on a recent visit to Europe, the Queen — no, not Elizabeth, the other Queen — snapped a few shots of her prince and princess. That's right, via her official website, Beyoncé finally shared photos of Rumi and Sir for the world to see. These aren't your typical family vacation photos that relatives force you to sit through, trust me. They're worth a peek even just to see how much the twins have grown.
Rumi and Sir were born on Tuesday, June 13, at 5:13 a.m. at Ronald Reagan UCLA Medical Center in Los Angeles, according to People, and the world has been smitten ever since. But aside from some invasive shots taken by the paparazzi — apparently without Bey and JAY's consent — a sweet post by their grandma, Tina Knowles, and an Instagram photo of Beyoncé holding her two little nuggets shortly after they were born, the Carter twins have largely stayed out of the limelight. That changed after the Carter family's On the Run II Tour was underway.
On her official website, Beyoncé posted photos from the tour stops that they have made so far, including their glorious visit to Europe. Along with a number of photos showing Queen B doing her thing on stage — and looking damn good doing it — she blessed the world with a photo of Rumi and Sir loving life in Europe.
The family made 15 stops in Europe between the months of June and July, according to Variety, hitting some popular destinations like London, Amsterdam, and Paris. The Carter children are evidently along for the ride and look to be having a fabulous time. A source close to the couple told People, "They are incredibly excited. It took a lot of work to make this happen. It's the best choice for their family." Compared to the itty bitty babies photographed a month after their birth, Rumi and Sir have grown quite a bit. The vacation photo is the first of its kind to be posted of the twins since Beyoncé's famous postpartum photoshoot.
Members of the Beyhive were very excited following a bit of footage on the tour showing Beyoncé holding two babies that many assumed were Rumi and Sir. However, her reps told Buzzfeed that the babies in the viral footage were not actually her children. Other clips from the tour include photos of Beyoncé laying with babies on her chest, and on site while the couple renewed their vows, according to Harper's Bazaar, but it is unclear if those are actually the Carter twins or the stand-in infants. (Side note: Would anyone other than the Carters have stunt doubles for their babies? Talk about glamour).
Ever the proud grandma, Bey's mom, Tina Knowles, shared a photo of the twins to her Instagram that showed them in front of mom and dad at what appears to be their vow renewal. While Rumi is beaming with a big smile at the camera, Sir is looking very serious to something off to the side. Ugh, they are just so cute. Fans of the famous family poured out their love on Knowles' post, saying things like "If they are not the absolute cutest, then idk who is. Soo precious!" Another noted the family resemblance, adding, "Rumi is a spitting image of B & Sir is a spitting image of Jay."
As you can probably tell by the small number of photos that have surfaced of the twins in the year since their birth, Beyoncé and JAY-Z don't post many photos of their littlest littles. But the On the Run Tour II still has a few months left to go, so who knows; maybe it'll bring with it more photos of Rumi and Sir. I sure hope so!