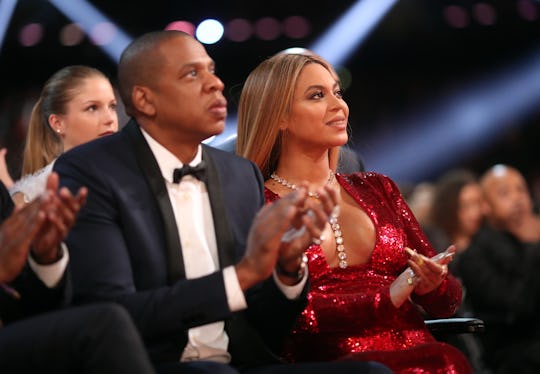 Christopher Polk/Getty Images Entertainment/Getty Images
Beyonce & JAY-Z Just Bought Their Forever Home, & It's Of Course A Shack
Attention, Beyhive! Your queen has established her forever home. That's right, music tycoons Beyoncé and JAY-Z just bought a Bel-Air mansion and... of course it's a total dump. I mean, let's all just take a second to scoff at the $88 million compound that comprises six whole buildings, eight bedrooms, and other totally snooze-worthy amenities like a spa and wellness center and a full-size basketball court. Seriously, this is where America's royals are going to raise their three young children? This is where they're going to prepare 5-year-old Blue Ivy and brand-new twins Rumi and Sir to literally take over the world? I hope they enjoy their leather-lined "sculptural circular staircase," as Variety's Mark David described it, in their three-story main residence because I'm — 
Yeah, I'm totally loving everything about this, from the four outdoor swimming pools to the 15-car garage to the monthly mortgage payment that reportedly exceeds a quarter of a million dollars. Because, in reality, Rumi, Sir, and Blue Ivy are all going to grow up in one of the swankiest compounds in Los Angeles, just as you'd expect. They'll have all the room in the world (well, 30,000 square feet, to be exact) to morph and grow into the mini moguls that they're sure to become, considering who their parents are. The Bel-Air compound sounds like the perfect place for little Blue to launch what could surely be a lucrative career as a rapper, for example.
Despite their mind-boggling fame and combined net worth of more than $1 billion, Bey and JAY didn't simply slide into their dream shack... I mean, gorgeous, breathtaking home set behind iron gates and sprawling over two hillsides. In fact, their search for a play to put down roots — and anchor their empire — reportedly spanned three years. They even made offers on a few luxurious abodes they loved only to be outbid, once by the guy who invented Minecraft, CNBC reported. Previously, they were renting an estate in Malibu for a mere $400,000 per month. Peanuts.
According to Variety, the new Carter crib is the sixth most expensive single-family home sold in Los Angeles County ever. That said, it should be noted that the Carters reportedly ended up purchasing it for just 65 percent of the $135 million original asking price in an off-market deal. It was on sale, guys. The woman walking the property's (probably gilded) halls may be a glowing goddess, but even Beyoncé has to love a steal.