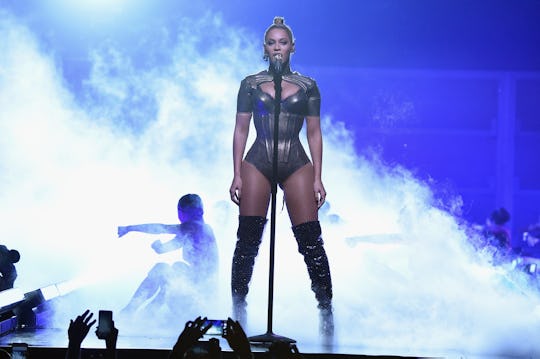 Theo Wargo/Getty Images Entertainment/Getty Images
Turns Out This Beyoncé Pregnancy Rumor Was True
On Wednesday, Feb. 1, Beyoncé announced publicly that she was pregnant for a second time — but don't expect the rumor mill to shut down just yet. There's no reprieve from speculation when you're the most influential entertainer of a generation — especially not when your family is growing. In an Instagram post in which the icon posed before a giant flowered wreath, cradling her baby bump, she confirmed that fans should expect, not one, but two more babies on the way for the Carter family. And while Beyoncé and Jay Z twins rumors didn't hit the internet en masse before she revealed the news, there was plenty of chatter that the queen was expecting again in the farther reaches of the Beyhive.
Of course, the steady stream of rumors that Beyoncé may be pregnant increasingly intensified into a deluge seemingly with each day that passed after her daughter Blue Ivy's 2012 birth. Still, the stunning revelation that the world will soon meet Beyoncé's twins exceeded even the most enthusiastic fan's dreams — which is exactly what Beyoncé does best. "We would like to share our love and happiness. We have been blessed two times over," the Lemonade star captioned the Instagram post, celebrating that she and husband Jay Z are about to become parents for a second time. "We are incredibly grateful that our family will be growing by two, and we thank you for your well wishes."
The timing of the announcement is notable not only because it came on the first day of Black History Month, but because it actually emerged on the heels of increased rumors that Bey was concealing her pregnancy. Just days before Bey debuted her baby bump for the second time around, HollywoodLife.com reported that even the singer's friends weren't flat out denying the speculation. "Everyone in Beyoncé's inner circle is keeping quiet when it comes to the pregnancy rumors, which is unusual because normally they would just deny them outright," an anonymous (of course) source reportedly revealed to the site exclusively. "When there's been pregnancy stories before everyone has just laughed them off, but this time round there's a noticeable silence on the subject, which makes me think it's true."
Of course, this kind of rampant guessing crops up all the time — when it comes to Beyoncé and many other female celebrities — but this was based on more than Bey's wearing clothes that were more loosely fitted than usual. Last week, a promo video for Beyoncé's activewear line, Ivy Park, was reportedly pulled from the internet because it showed her pronounced, and clearly pregnant, belly. It was live long enough for her more dedicated followers to go nuts over it, though — and take plenty of screen shots. "EXCLUSIVE: We can EXCLUSIVELY CONFIRM that BEYONCÉ its PREGNANT with her second child," one fan Twitter account posted, along with the photo. "Thats why her team deleted the new Ivy Park ad."
But just hours before the Instagram post exploded Wednesday, the video reappeared online, People magazine reported. Appearing only briefly in the one-minute spot, Beyoncé seems to show off her belly in a form-fitting green workout top. "I'm here and I'm supposed to be here, and I'm proud of the body that I'm in," the voiceover concludes. It's even more meaningful now that we know for sure that Bey is expecting twins.
Rumors will follow Beyoncé now matter what – remember that Illuminati mess? — so it's not exactly shocking that, this time, one turned out to be true. I'm skill a little skeptical about the new fan theory that she and Jay are going to name the new babies "Green" and "Red," but thrilled and looking forward to helping the rest of the Beyhive welcome those two babies into the world sometime soon.