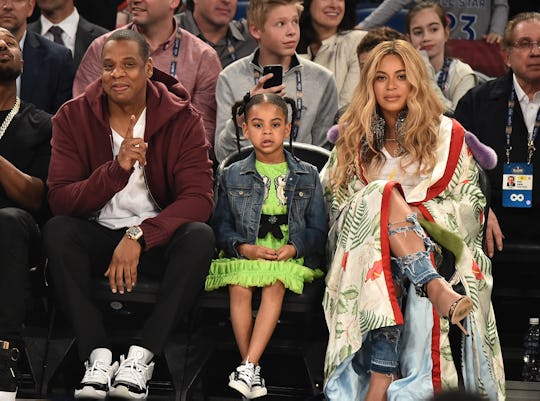 Theo Wargo/Getty Images Entertainment/Getty Images
Beyonce & JAY-Z's Twins Have Left The Hospital
After a couple of weeks in a Los Angeles hospital, Beyoncé and Jay Z's twins have left the hospital and are finally home, according to E! News. The Knowles-Carter family — now a bustling family of five — has left the hospital and moved into a luxury rental house as they adjust to life outside the NICU. Beyoncé's twins were born prematurely on June 12, according to TMZ, which would definitely account for the high profile couple's unusual radio silence for the past three weeks. The Knowles-Carter twins were reportedly treated for jaundice, a common condition affecting preemie babies.
While their current living arrangement appears to be a $400,000-a-month luxury rental mansion in California, "home" could be a relative term. Where does Beyoncé live? According to celebrity homes website Velvet Ropes, Beyoncé and Jay Z have homes in both New York and Louisiana. In 2015, Vanity Fair reported Beyoncé and Jay Z were outbid on a gorgeous Los Angeles mansion, but it would appear the power couple is making California their temporary home for now following the birth of their twins.
While the couple has yet to publicly confirm their twins' birth or their names, it has been widely reported that Beyoncé gave birth to a boy and a girl. Representatives for the couple have not returned Romper's requests for comment, and Beyoncé and Jay Z themselves have been equally as tight lipped across their social media accounts and websites. Not like I've been hitting refresh on Beyoncé's Instagram account on an hourly basis for weeks or anything.
All this secrecy has frustrated some fans, who want nothing more than the catch a glimpse at Beyoncé's twins and find out their names. But it's important too, to consider the flip side of of her family's situation, as one of the most powerful couples in the music and entertainment industry. It's not about keeping secrets — it's about having some much deserved privacy and downtime out of the spotlight.
Whether you're Beyoncé Knowles-Carter or not, the immediate days and weeks post birth are emotionally and physically intense. Even though Beyoncé chronicled her killer maternity looks on Instagram throughout her pregnancy, it doesn't mean she wants — or has — to open the windows into her family's most intimate moments as they welcome its newest members.
While fans might not yet know Beyoncé's twins' names or have seen pictures of them, they are already the world's most loved kids on the whole planet at the moment — if only yes, out of our insatiable celebrity curiosity. What matters most right now is that the twins are here, they're healthy enough to have left the hospital, and are home with their family.