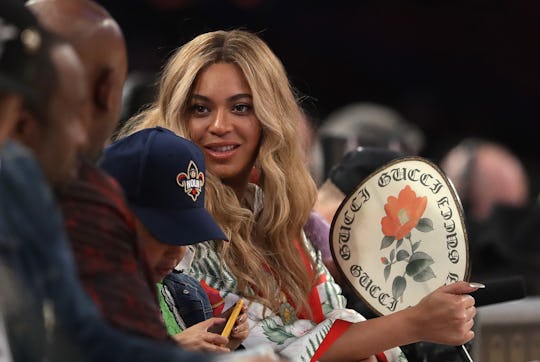 Ronald Martinez/Getty Images Sport/Getty Images
Beyonce's Twins Were Reportedly Born Premature
It's been more than a week since the Knowles-Carter twins arrived, but according to several sources, Beyoncé and the twins are still in a Los Angeles, California hospital. According to TMZ, Beyoncé's twins were reported born prematurely and were kept "under the lights." The "lights," the unnamed source told TMZ, refer to phototherapy to treat newborn jaundice, a common condition in premature babies. The condition also affects full term babies, and is rarely serious.
When preemies develop jaundice, it's due to elevated bilirubin levels in their blood. As a result, jaundiced babies' skin and the whites of their eyes appear yellow or orange. These visible signs of jaundice take anywhere from three to five days after birth to appear and are temporary, with skin color returning to normal once the bilirubin levels stabilize. To accelerate this process, babies are put under bright blue lights to help break down the bilirubin. They even get tiny little shaded goggles to wear to protect their eyes, not unlike the kind you'd see at a tanning salon.
Jaundice could certainly account for the "minor issue" with Beyoncé's twins that have kept them in the hospital since their birth on June 12. While the couple themselves have yet to confirm the twins' birth, Beyoncé's dad, Matthew Knowles, confirmed the twins' arrival via Instagram on Sunday.
Now, as alarming as the news about Beyoncé's twins being premature might be, I've got a good feeling for Mrs. Knowles-Carter and her family. How do I know? My son was born five weeks premature and had to spend about 24 hours under blue lights for a mild case of jaundice, tiny goggles included. Even after a 29-day NICU stay and a seriously scary infection that prolonged his stay, he's now a rambunctious 4-year-old who loves telling knock-knock jokes and riding his scooter.
Even though Beyoncé announced her pregnancy on Feb. 1, the Queen did not give any indication of her due date, so there was no way to know once the news broke Saturday that Beyoncé had given birth whether she had reached full term in her pregnancy. By the looks of Beyoncé's gorgeous baby shower photos from late last month, I would have sworn she was overdue. But the fact that her twins arrived early certainly would explain the uncharacteristic social media radio silence from Beyoncé, who had been actively chronicling her killer maternity style on Instagram.
This makes Beyoncé and JAY-Z even more deserving of their privacy right now, even though they are a billion-dollar couple and fans may erroneously think they're entitled to witnessing every moment of their lives. Not only has Beyoncé just given birth, but with the news that their twins may have arrived prematurely — and again, without knowing Beyoncé's exact due date, we don't know exactly how early they were born — she is now a recovering mama with twins in the NICU. Life in the NICU is an entirely different ballgame, believe me.
The last thing the Knowles-Carter family needs right now is everyone constantly berating them with questions about how Beyoncé or the twins are doing, in addition to endless questions about their official names and sexes. I can vouch from personal experience as a the mom of a preemie that the only thing that matters to Beyoncé right now is her babies' health. I will happily give this recovering mama all the space in the world to let her focus on those precious babies, no matter how famous they already are — and here's hoping other fans can give her that same privacy and space, too.