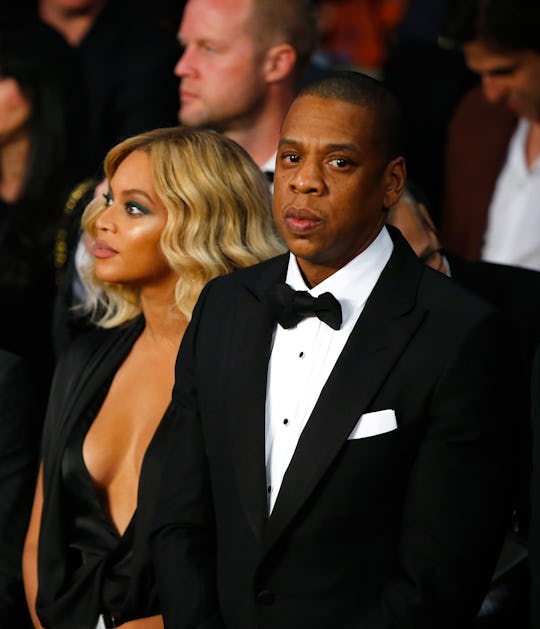 Al Bello/Getty Images Entertainment/Getty Images
Beyonce 'Lemonade' Divorce Theories Are Everywhere, Because Fans Can't Take The Mystery
So poor "Becky with the good hair" might want to skip the country for a little bit, because, as is the case in our misogynist society, Bey fans have targeted her instead of Jay Z amidst cheating rumors. Since Beyoncé unleashed Lemonade, her new album, along with her raw short film on HBO Saturday night, the Internet has been going crazy with Jay Z and Beyoncé divorce theories, and with semi-good reason: Lemonade spoke from what must have been a deeply wounded, personal place inside our Queen Bey about marital discord, pain, and regret. Beyoncé sang about infidelity and loss and rage, with some of her most powerful lyrics to date. But, still, its important to note that neither Bey nor Jay Z have confirmed the rumors that Lemonade is about their marriage.
"What are you going to say at my funeral now that you've killed me/Here lies the body of the love of my love whose heart I broke without a gun to my head/Here lies the mother of my children living and dead/Here lies the love of my life who I took for granted," Beyoncé said during the HBO special.
But is she talking about her husband, rapper and business mogul Jay Z? Most fans are making the assumption that Lemonade is essentially a divorce announcement (although it is worth noting that neither Beyoncé nor Jay Z have said a word about getting a divorce at this point). After all, she did sing, "Tonight, I regret I put my ring on," and in the song "Sorry" she sang, "I see them boppers in the corner/He only want me when I'm not there/He better call Becky with the good hair." Which certainly sounds like trouble for the couple.
But is "Lemonade" really about a divorce? Not everyone thinks so. There have been reports that Jay Z and Beyoncé have relocated to Tampa's Davis Island in recent months, and the pair have been spotted out together looking relaxed and happy with daughter Blue Ivy attending the Easter Egg Roll at the White House in March.
The couple have been dealing with infidelity and divorce rumors since 2005, when Jay Z was reportedly having a fling with Rihanna — that's 11 years worth of rumors, people. That is 11 years of imminent divorce, meetings with financial advisors, sleeping in separate bedrooms, and a veritable harem of "side chicks" for Jay Z, if the rumors are to be believed. And then there is "Becky with the good hair," of course. One source close to the couple has said that "Becky with the good hair" is essentially a composite of women from Jay Z's past. "I don't think Beyoncé is calling out one girl. It is many girls. The rumors have been around for years." The source told gossip site Page Six that this album is more reflective, and that these issues are in the past:
Jay is now a great husband, and this is in the past. They went through a rocky patch but things are good again. The video is about finally coming to terms with her strength and their love.
Apparently, another insider claimed that the couple are thrilled with the talk about Lemonade:
They're marketing masters. They're pros at this. The more attention, the more they sell, the better. All that speculation is to get press when they need it. Lemonade is much deeper than infidelity, but that's the focus. As long as people are talking, they don't care.
And, there is another theory, still, about Lemonade that actually has nothing to do with Jay Z: Some say Beyoncé's dad and former manager Mathew Knowles, who divorced her mother Tina Knowles in 2011 amid accusations of infidelity, is who Beyoncé is actually talking about on the album. During one of the spoken word portions of Lemonade, Queen Bey asks,
Did he bend your reflection? Did he make you forget your own name? Did he convince you he was a god? Did you get on your knees daily? Do his eyes close like doors? Are you a slave to the back of his hand?
Knowles admitted that some aspects of Lemonade might be about him, but he wasn't ready to clarify beyond that. He went on Sirius XM Radio's Make It Plain on Monday to discuss his daughter's new album. "There's no way that we can get into the mind of Beyoncé. Only Beyoncé can answer who she specifically is talking to," Mathew continued. "I'd rather not get into speculation, so my answer is I don't know."
Which is essentially a polite way of saying, "everybody calm down until Queen Bey speaks." As is always the case with Beyoncé, fans will have to keep waiting.