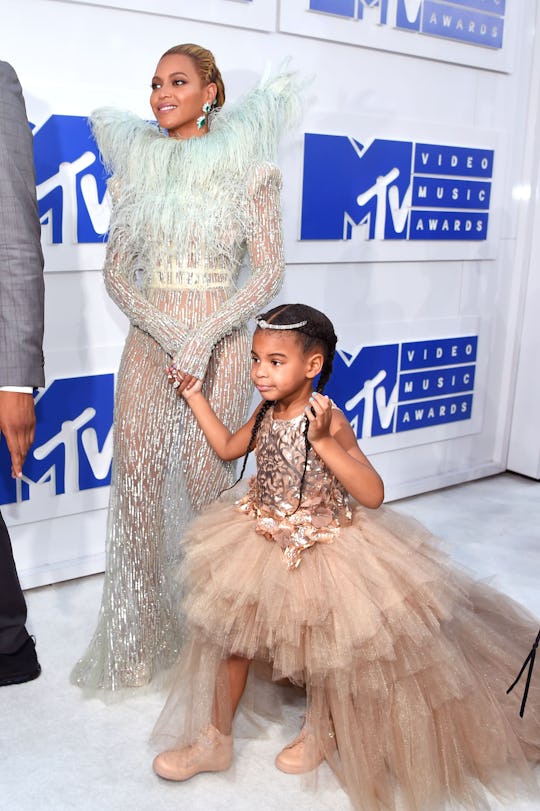 Larry Busacca/Getty Images Entertainment/Getty Images
Beyonce Might Launch A Blue Ivy Beauty Line
We all need to take a deep breath because there is reason to believe that Beyoncé might launch a Blue Ivy beauty line in the, hopefully near, future. TMZ reported on Friday that the 5-year-old's parents signed legal documents to trademark her full name, Blue Ivy Carter, because Beyoncé's company reportedly wants to create a brand of beauty products, ranging from hair care and clothing to possibly even some tech devices. At this point, this report has not been confirmed, but we just have to say we're completely on board with it if this brand ever comes to fruition.
According to TMZ, Beyoncé's team has already filed documents to take the soon-to-be big sister's name off the market and "it looks like the application will be approved very soon." The 35-year-old mom reportedly already filed the same legal documents to lock down the name "Blue Ivy" back in 2012, but was denied because the name had already been claimed by someone else. TMZ reports that adding her last name to the trademark might seal the deal.
The could-be little mogul probably doesn't know (or care) too much about the safety of her future finances at her age. Instead, she's probably beyond excited to become a big sister to two new siblings. "Blue is so excited to be a big sister!" a source reportedly told Us Weekly.
Beyoncé announced the huge news that she was pregnant with twins with an insanely gorgeous Instagram photo of her baby bump earlier this week.
"We would like to share our love and happiness," she captioned the glamorous shot of her wearing perhaps symbolically-colored lingerie along with a sheer green veil. "We have been blessed two times over. We are incredibly grateful that our family will be growing by two, and we thank you for your well wishes. - The Carters."
There is simply just too much excitement happening right now. We've barely had time to clean up the confetti and glitter from Queen Bey's epic pregnancy announcement and now we're bracing ourselves for possibility that little Blue is going to slay the entire beauty business game.
Sure, 2017 got off to a rough start and it seems like every day a new headline makes us do a double-take. But if Beyoncé, the goddess of good news that she is, keeps surprising the world with more news about her babies on the way and the possibility of a Blue Ivy beauty empire, then we can make it through the rough patches.