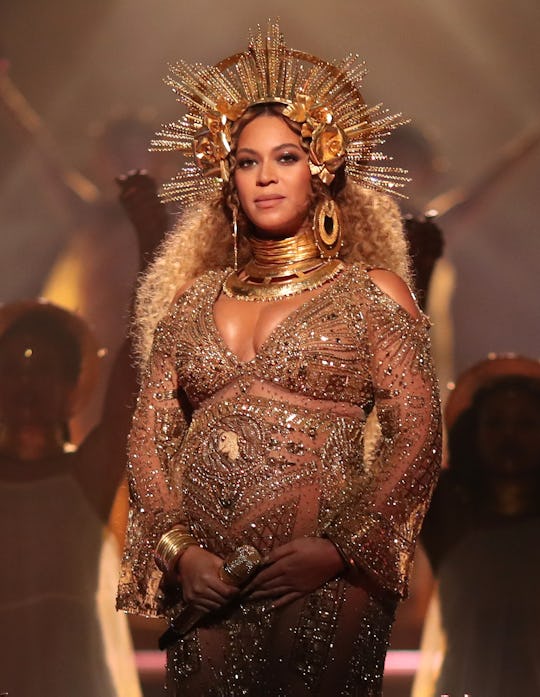 Christopher Polk/Getty Images Entertainment/Getty Images
Beyoncé's Words About Her Emergency C-Section & Post-Birth Struggles Are A Must Read
As if Beyoncé's mere existence wasn't enough of a gift to the world already, the singer just opened up about so many aspects of her life that she's never publicly discussed before. In a cover story for Vogue's September issue, Beyoncé discussed the emergency C-section she had when giving birth to her twins — in her own words. The entire interview (rather, essay) is written in first person by Beyoncé, and the photo shoot was photographed by 23-year-old Tyler Mitchell, who is the first ever African-American photographer to shoot a Vogue cover.
"I was 218 pounds the day I gave birth to Rumi and Sir. I was swollen from toxemia and had been on bed rest for over a month," Beyoncé wrote in the piece. (Toxemia, also known as preeclampsia, is when a pregnant woman experiences high blood pressure as well as swelling in the limbs, often resulting in either inducing labor or bedrest, according to WebMD.) "My health and my babies' health were in danger, so I had an emergency C-section. We spent many weeks in the NICU."
Beyoncé also opened up about the recovery period after giving birth to Rumi and Sir. "After the C-section, my core felt different. It had been major surgery. Some of your organs are shifted temporarily, and in rare cases, removed temporarily during delivery," she wrote. "I am not sure everyone understands that. I needed time to heal, to recover. During my recovery, I gave myself self-love and self-care, and I embraced being curvier. I accepted what my body wanted to be."
Additionally, Bey described how her pregnancy with the twins still affects her body and the way she sees herself today, more than one year later. She wrote:
I think it's important for women and men to see and appreciate the beauty in their natural bodies ... To this day my arms, shoulders, breasts, and thighs are fuller. I have a little mommy pouch, and I'm in no rush to get rid of it. I think it's real. Whenever I'm ready to get a six-pack, I will go into beast zone and work my ass off until I have it. But right now, my little FUPA and I feel like we are meant to be.
(A FUPA is a "fatty upper pelvic area," according to Tiger Fitness.)
On July 14, 2017, exactly one month after giving birth, Beyoncé Instagrammed an instantly iconic photo of herself looking like a straight-up goddess while holding Sir and Rumi. "Sir Carter and Rumi 1 month today," she captioned the stunning shot. Now that she has disclosed that she had to spend weeks in the NICU with the twins after they were born, it's even more impressive that she had the strength for that photoshoot barely a month later.
There's no doubt that Beyoncé absolutely loves being a mother. In a 2012 interview with Anderson Cooper, Queen B said, according to People:
I realized why I was born and more than anything all of the things I want to pass onto my child and the best way of doing that is not by preaching or telling her but showing her by example, which is one of the reasons I'm here.
And in an April 2016 interview with Elle, Beyoncé explained her hopes for her daughter Blue Ivy. "I think just like any mother, I just want my child to be happy and healthy and have the opportunity to realize her dreams," she told the outlet.
It's really amazing that Beyoncé decided to open up about her rough delivery and postpartum period, and hopefully it provides comfort to other parents who are experiencing similar difficulties.