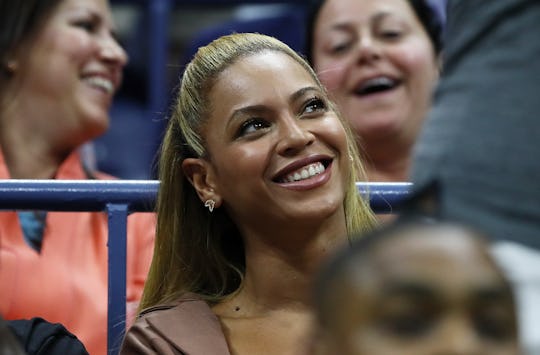 Al Bello/Getty Images Sport/Getty Images
The Best Beyoncé Pregnancy Announcement Memes
There is a God, and her name is Beyonce. Amidst a week that as been terrible, horrible, no-good, and very bad, Queen Bey shared some amazing news with the world — she's pregnant. And, as with any major celebrity news, the Beyoncé pregnancy announcement memes started streaming not long after the news broke. Ever since Beyoncé gave birth to Blue Ivy in September 2012, fans have been wondering when she and husband Jay Z would welcome another baby into American's unofficial royal family. And it looks like that day is finally here.
On Wednesday, Feb. 1, Beyoncé shared her pregnancy news with the world . Or, at least, those with an Instagram account. The singer posted a professionally shot photograph, which placed her in front of an intricate floral arrangement that would make Martha Stewart proud. Wearing nothing but a bra, underwear, and beautiful veil, fans witnessed Beyoncé's beautiful baby bump. But that wasn't even the best part. Beyoncé's maternity shot was paired with a a sweet caption that read:
We would like to share our love and happiness. We have been blessed two times over. We are incredibly grateful that our family will be growing by two, and we thank you for your well wishes. - The Carters
***Flawless, right?
Of course, this isn't the first time Beyoncé has slayed the pregnancy announcement game. (Seriously, what isn't she good at?) According to Billboard, Beyoncé announced she was pregnant with Blue Ivy at the 2011 MTV Movie Awards — twice. The first time was one the red carpet, where the singer donned a red Lanvin gown that flaunted her newly formed bump. But those who missed the red carpet debut were given a peak later in the evening when Beyoncé took to the stage to since her hit single, "Love On Top." At the end of her applaud-worthy performance, she unbuttoned her blazer to reveal a beautiful little bump. It was, essentially, perfection.
Fans seem to be just as excited for Beyoncé's pregnancy news this time around, especially since she's welcoming two babies into the world. And, to show their excitement, fans unleashed a series of memes that range from heartwarming to hilarious.
Some tied the pregnancy to the Queen Bey's career.
Others used the memes to offer some name options.
One or two paid tribute to the original Beyoncé Baby.
A select few expressed their disappointment that they were not one of the twins.
And, of course, others brought it back to politics.
But seriously, the latter group is 100 percent correct. Thank you Beyoncé and Jay Z for giving the world the good news it needs right now.