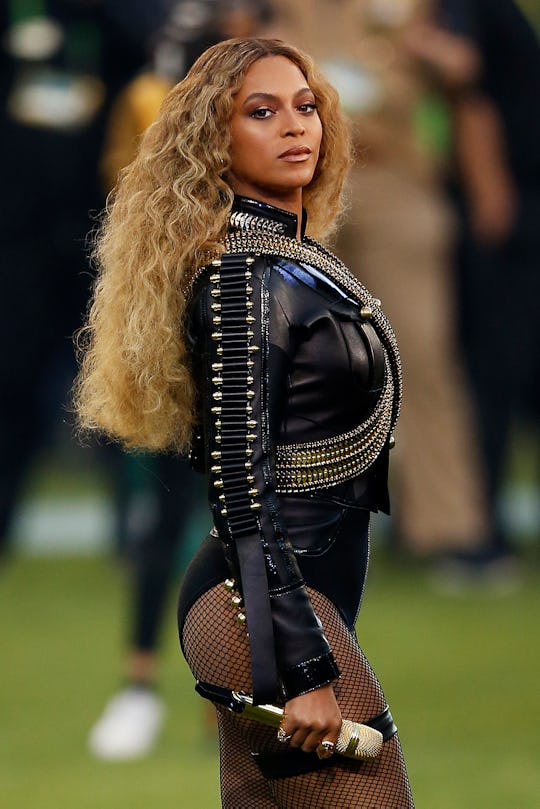 Ezra Shaw/Getty Images Sport/Getty Images
Beyonce Sells 'Boycott Beyonce' Shirts, Becomes Ultimate Shade Queen
In case there was any doubt about just how many f's Beyoncé gives, the count is officially down to zero. Just as her Formation tour kicked off this week, Beyoncé began selling "Boycott Beyoncé" t-shirts and iPhone cases, making her the ultimate shade queen of all time. (Bow down, mere mortals.)
At the risk of totally geeking out, could this be any better? She basically brought the pop culture world to a halt this weekend as fans (and even non-fans) were mesmerized by her visual album Lemonade and had everyone dissecting the music, the cinematography, and her marriage to Jay Z.
Then, just when you thought she was already the baddest-you-know-what in the business, she goes and makes "Boycott Beyoncé" shirts for all the haters and fans who can't wait to rock one ironically. Really, it's genius. The shirts aren't on sale on her website yet, but fans will be able to buy them at her concerts. According to fan tweets, the shirts are $45 and the phone cases are $25. A little pricey, yes, but well worth it, if only for the joke. There are also shirts that say "Beyhive Boys" and a "Slay" shirt.
The shirts and slogan are a direct response to groups planning to protest each and every stop on the Formation tour after her Super Bowl performance in February. According to haters, Beyoncé's performance of "Formation" had an anti-police message. Javier Ortiz, the president of the Miami Fraternal Order of Police, Lodge #20 urged police to not staff the kick-off to her tour on Wednesday. Luckily, there were no altercations at the venue as of press time. Because this is Beyoncé, people. Everything works itself out.
Fans are loving the gag:
Although Bey has yet to comment on the gossip surrounding the release of Lemonade this weekend, she did open up about the protests earlier this month in Elle. Speaking of the "anti-police" message, Beyoncé said, "anyone who perceives my message as anti-police is completely mistaken. I have so much admiration and respect for officers and the families of the officers who sacrifice themselves to keep us safe." She added, though:
But let's be clear: I am against police brutality and injustice. Those are two separate things. If celebrating my roots and culture during Black History Month made anyone uncomfortable, those feelings were there long before a video and long before me. I'm proud of what we created and I'm proud to be part of a conversation that is pushing things forward in a positive way.
Talk about being in control of the conversation. Sure, it's a cute joke and if anyone wants to grab me one for prosperity, please do. But it's also a clear lesson in not letting yourself be misunderstood. She knows, like her fans do, that her message is nothing worth boycotting.
If you can laugh at yourself, and criticisms of your work, you always win. Now, let's secretly hope she donates some of those proceeds to good causes that support of victims of gun violence or something. Or not. I mean, at this point, she's going to do whatever she wants anyway, right? (And good for her.)