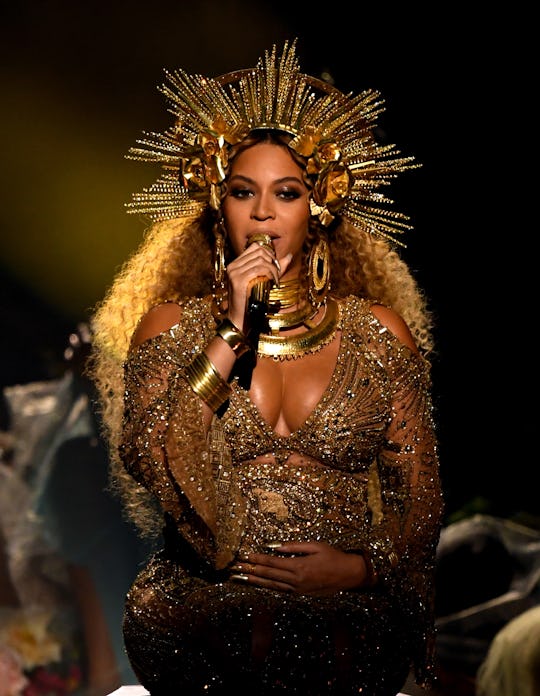 Kevin Winter/Getty Images Entertainment/Getty Images
Beyoncé Shares Incredible New Pregnancy Pics
Beyoncé continues to rock her twin pregnancy in gorgeous style ever since announcing she was pregnant on Instagram last month. On Tuesday, Beyoncé shared new pregnancy photos from Oscars weekend and they are simply stunning. Fans got their first glance of a pregnant Beyoncé at the 2017 Grammy Awards, where she donned an ethereal Mother Goddess inspired costume as she performed two songs from her visual album, Lemonade. Throughout the rest of the evening, she wore a body-hugging shimmering red dress that showed our Queen Bey in complete pregnant confidence.
Beyoncé's newest pregnancy photos show her still just as stylish, but in far more subdued jewel tones. Dressed in a sparkling teal bodycon dress by Nicole Miller, Beyoncé appears to be taking every opportunity she can to highlight her growing belly — and why shouldn't she? She looks amazing and is clearly excited about growing the Carter family by two. Beyoncé's "My Life: Oscar Weekend 2017" series of posts at her website featured 17 amazing photos, including candids of her and husband Jay Z, as well as drool-worthy closeups of her bright gemstone jewelry and velvet shoes by Jil Sander.
And of course, Beyoncé is rocking her best accessory: her serene pregnancy glow.
What would otherwise look like just another green maternity dress, Beyoncé of course finds a way to kick it up to green goddess levels of fashion and style. Those big fat emeralds, rubies, and orange gems draped around her neck certainly help. Her necklaces were by H.Stern and Coomi.
Oh, and the massive amounts of golden bling across both hands. Beyoncé wore rings from a number of jewelry designers, including Pasquale Bruni, Doron Paloma, Hearts On Fire, Le Vian, and Narcisa Pheres.
One of the cutest of Beyoncé's Oscars weekend photos was a gif of her posing, one arm outstretched, the other poised with a hand on her hip. Beyoncé channeled her inner Tyra Banks as she made sassy poses, clearly relishing in just how damn good she looks.
That said, I feel like I need to make a small public service announcement. Bey Bey: Those shoes, honey. Yes, they are amazing. And I'm sure you rocked them like the goddess of my life that you are. But JFC, you could fall over in those things — and you're carrying such precious cargo.
Perhaps one of the sweetest photos of the lot was a black and white candid shot of her and Jay Z, completely crazy in love together. Jay Z and Beyoncé are my relationship goals — minus the "To The Left" and Lemonade parts.
We don't know exactly when Beyoncé is due with twins: The 35-year-old singer has kept their due date under wraps. That said, she doesn't appear to be that far along enough (remember, twins carry bigger), which of course means there are many more opportunities for Beyoncé to share photos of her absolutely slaying pregnancy. I, for one, cannot wait.