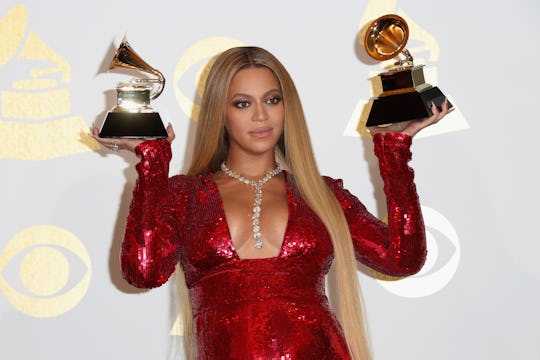 Frederick M. Brown/Getty Images Entertainment/Getty Images
Beyoncé's New Bump Photos Are Stunning
Beyoncé's pregnancy has to be one of the most exciting things to happen in 2017. After announcing on Feb. 1 that she was expecting twins (which makes the whole thing so much better), fans could barely contain their excitement for the legend and her husband, rapper Jay Z, and every new photo the singer has shared of her journey since has proven to be a blessing in this otherwise exhausting year. Over the weekend, for example, Beyoncé showed off her bump in new Instagram photos, prompting fans to collectively lose their minds once again.
True to form, Beyoncé looks stunning in the new photos (taken prior to a previous event), which she posted to her Instagram on Saturday evening in several video round-ups set to music, a common theme on her account of late. Wearing a long, mauve trench coat on top of a cream colored dress that puts her growing bump on full display, topped off with a pair of rosy sunglasses, the Lemonade songstress practically embodies the term "new romantic."
In one series of photos from the night, Beyoncé and 5-year-old daughter Blue Ivy play around with Snapchat filters and look adorable while doing so. This, of course (as any devoted fan will point out) proves two things: how cute Beyoncé and her daughter are together (obviously), and that she definitely has a secret Snapchat account (um, please send me your username, Beyoncé, so I can watch you slay all day).
Beyoncé didn't just dress up because she wanted to take a few Instagram photos. According to Entertainment Tonight, Beyoncé and Blue had dressed up to have a mother-daughter date and to attend a performance by the Alvin Ailey American Dance Theater at The Music Center in Los Angeles, California last week, but didn't release her own photos from the night until this past weekend. (Queen Bey was there to support her mother Tina's non-profit group for youth, Tina's Angels; she also surprised the Alvin Ailey dancers after the show, to everyone's delight.)
Fans have been obsessing over Beyoncé's pregnancy of late, and have even speculated that the singer may have hinted at her babies' genders (because Beyoncé's due date can't come soon enough, I get it). According to People, fans theorized that Beyoncé was having twin boys due to the fact that she was seen in another recent Instagram wearing the same earrings she rocked in her 2008 "If I Were A Boy" music video. While the theory might be a bit of a stretch, Beyoncé does have a history of dropping coy hints about major events on her Instagram account (like she did for her 2016 album, Lemonade), so really, anything is possible at this point.
All theories aside, Beyoncé looks beautiful and glowing in her newest Instagram photos — and really, that's all fans could ask for.