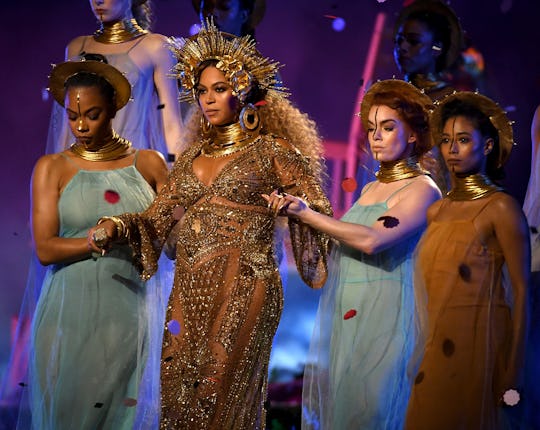 Kevork Djansezian/Getty Images Entertainment/Getty Images
Beyonce Twin Gender Theories To Keep You Busy Until They Arrive
I think Beyoncé has been pregnant for around 15 years. And she's carrying twins in her henna-painted belly, so that's basically like being pregnant for 30 years. Yes, fans are running out of ways to keep themselves entertained while they impatiently wait for the Carter twins to drop (and we thought waiting for Lemonade was rough), and let's get real here — the Clooney twins could only distract us for so long. It was just all so drama-free, like watching a rose ceremony on The Bachelorette where all the roses are pre-delivered to nice guys. Let's look at some gender theories about Beyoncé's twins while we wait.
Amal Clooney and her husband George gave birth to a boy and a girl (one of each, and with such sweet names too — Alexander and Ella). All very neat and tidy. Not that I'm hoping Bey's birth will be a little extra... but yeah, I'm hoping it's the Nigerian-themed Carter Push Party 2.0, this time with babies. What kind of babies, you ask? Ever since Beyoncé first broke the internet with her pregnancy announcement Instagram, she has kept quiet about the gender of the twins. But fans seem to think they've spotted undisputed clues along the way. Here are a few favorites (so far):
If I Were A Boy
Back in March, Bey wore the same earrings she wore in the video of her song "If I Were A Boy." Apparently she isn't supposed to be recycling any of her jewelry... the Beyhive simply won't have it. Wearing some earrings from a 2008 video when she sang about what life would be like as a boy might seem like a bit of a reach, but it was enough to get the Beyhive buzzing.
All The Single Ladies
While some are convinced Bey and husband Jay Z are having twin boys, there seem to be way more theories about twin girls (just because oh my heart). Bey was seen carrying a purse with twin pink flowers on it... so obviously girls, right? And a particular photo shoot she did for her website, Beyonce.com, with daughter Blue Ivy, seemed to really get the twin girl theory going.
The theory goes like this: Bey does a girlie-pink photo shoot with Blue Ivy to celebrate Easter. Complete with three butterflies, one blue and two pink. Fans think that was Queen Bey's subtle way of saying the blue butterfly represents Blue Ivy, and the two pink butterflies are the new Carter babies. Or perhaps the blue butterfly is a boy? Which leads us to the final theory...
Crazy In Love
Some fans believe Beyoncé is having a boy and a girl for several reasons. That pesky blue butterfly, for one, but also because Beyoncé's father, Matthew Knowles, told CBS' The Insider that she was having one of each. To be fair, Knowles was a little out of the loop when it came to the pregnancy (Cosmopolitan reported that he found out when people started texting him congratulations), but here is what he said about the impending Carter twins and the way they were announced:
That was very smart that she did it rather than someone else, the media, doing it. I think there's strategy. I think there's more to come… I'm extremely proud, extremely happy both for Jay and for her.
And Blue is gonna have brothers and sisters. She is already excited.
He did use the plural version, meaning he could be talking about more siblings down the road. But still... maybe he's got the inside scoop and he's really bad at keeping secrets.
We will be finding out the twins' gender for real soon enough, right?
Right?