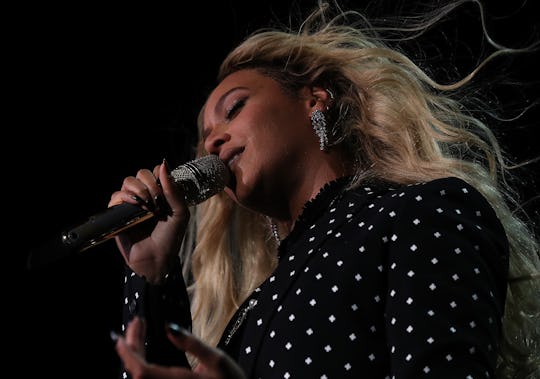 Justin Sullivan/Getty Images News/Getty Images
Beyoncé Will Bless Us Again At The Grammys
Let's just call the first week of February the Week of Beyoncé. Or we could just throw in the towel and call 2017 the Year of Beyoncé. Queen Bey already dropped the news this week that she was not only pregnant, but pregnant with twins, and now she has some more amazing news for us. It turns out Beyoncé will perform at the Grammys, because she just knows we need a little good news right now. Bless.
I suppose we shouldn't really be surprised; after all, Beyoncé has more Grammy nominations this year than any other artist. She's already the most nominated woman in the history of the awards show, and this year she's been nominated for a total of nine awards (including Album of the Year for "Lemonade" and Best Pop Solo Performance). Still, when Entertainment Tonight spotted her on Feb. 2 in rehearsal with her dancers for the Grammys, which will air Sunday, Feb. 12, getting more Bey news after Wednesday's shocking reveal felt like a little too much, you know? Like having a milkshake to wash down your cheeseburger; how much joy can one person possibly take? Just kidding, Queen Bey. We can take it. Don't stop blessing us now!
The news that Beyoncé and husband Jay Z are expecting twins to join big sister, 4-year-old Blue Ivy, officially broke the internet yesterday (and how do you like them apples, President Trump?). The release of her first official pregnancy photo has nearly nine million likes on Instagram. She captioned the epic photo:
We would like to share our love and happiness. We have been blessed two times over. We are incredibly grateful that our family will be growing by two, and we thank you for your well wishes. - The Carters
Naturally, we can all expect other pregnant moms to start releasing similar photos. Get ready for your news feed to explode with pictures of pregnant women wearing serene expressions and peaking out from underneath veils. It's guaranteed to be all the rage, now that Beyoncé has gone there. Because that is just the nature of being Queen Bey, I suppose.
After she released the initial photo, Beyoncé gave us a moment to catch our breath. Have a cup of tea, pay some bills, do a little laundry. And then she unleashed the rest of her photo shoot on her official website. Yep, it was miraculous; pics of Queen Bey, her belly, and her little Blue Ivy. In a swimming pool, sporting a wreath of flowers and nothing else. On the top of a car. It was like bless, bless, bless all over the place.
Now we only have to wait until next Sunday for more Bey. I guess the world isn't such a rotten place after all.