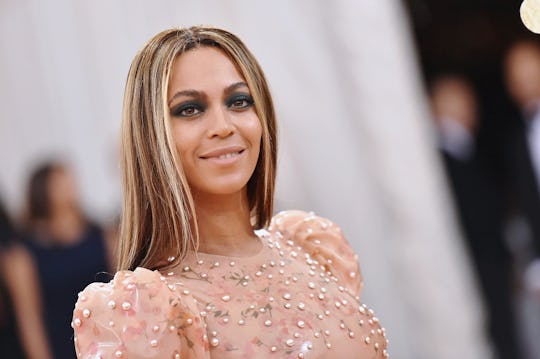 Mike Coppola/Getty Images Entertainment/Getty Images
Beyoncé Wished Rumi & Sir Happy Birthday On Her Tour & Fans Can't Handle It — VIDEO
It's an awesome time to be a Beyoncé fan right now, especially if you can't get enough of her three kiddos. Throughout the past six days of Beyonce and JAY-Z's On The Run II tour, the couple have gifted fans with footage of 6-year-old Blue Ivy and their 1-year-old twins, Sir and Rumi. But just when you thought the tour couldn't get any cuter, Beyoncé wished Rumi and Sir a happy birthday mid-song. Talk about an epic first birthday shoutout, right?
Although it might be hard to believe, Rumi and Sir marked their first year of life on Wednesday. Time flies, doesn't it? And on this special day, Beyoncé and JAY-Z were busy performing their greatest hits at a sold out concert in Manchester, England. Of course, it's likely Beyoncé and JAY-Z celebrated the twins birthdays earlier in the day before the show took place. Still, Beyoncé couldn't let the night end without ensuring Rumi and Sir received all of the birthday love possible, and she closed out the concert with an adorable homage to their first trip around the sun.
Just as the duo wrapped up a performance of "Young Forever," Beyoncé shouted into the crowd, according to Billboard: "Happy birthday to Sir and Rumi, We love you!" How sweet.
Needless to say, fans were *thrilled* to hear Beyoncé shower her twins with birthday love — a reaction I completely understand. There's something about Beyoncé uttering Sir and Rumi's names aloud that makes this mom of twins thing so real. It's not to say I ever doubted the existence of Rumi and Sir, obviously — it's just a different feeling to hear her say the names in public. Up until now, fans have only experienced the twins through pictures and video clips. What a time to be alive.
"Hearing Bey say 'Sir and Rumi" for the first time," a fan captioned a GIF of Beyoncé crying, according to Twitter.
"Why am i tearing up omg can't believe the twins are 1 already," one fan commented on the aww-worthy video.
Another person chimed in: "So cute."
"MY GOD I LOVE MY FAMILY THAT CUTE," a particularly blown away fan penned.
All in all, it seems like fans are honored by Beyoncé's choice to include them in this birthday celebration. Although Beyoncé could have let the night go by without any mention of Sir and Rumi (celebrity families deserve the opportunity to celebrate special occasions in private), it's cool she opted to go public with the birthday message. It's clear Beyoncé is more comfortable about sharing her family moments with fans these days, as evidenced by her decision to display her vow renewal video for millions of people. In the video, Sir and Rumi are seen front and center.
As for Sir and Rumi's birthday party, I suspect it will go down at some point during the upcoming weekend. The next On The Run Tour II performance is in London this Friday, so keep your eyes peeled for photos of the Carter family hanging out in the city's swankiest locations. Who knows, maybe the fam will pop by Nottingham Cottage to say hello to newlyweds Prince Harry, Duke of Sussex, and Meghan Markle, Duchess of Sussex. It would only be fair considering Prince William, Duke of Cambridge, and Catherine, Duchess of Cambridge, got to meet JAY-Z and Beyoncé in December 2014. Fingers crossed these universes collide during Sir and Rumi's birthday weekend — the pictures would be awesome.
In all seriousness though, it's great to see Beyoncé enjoying her first year as a mom to twins, and it's even better that fans get to share in her joy. Happy birthday, Sir and Rumi.