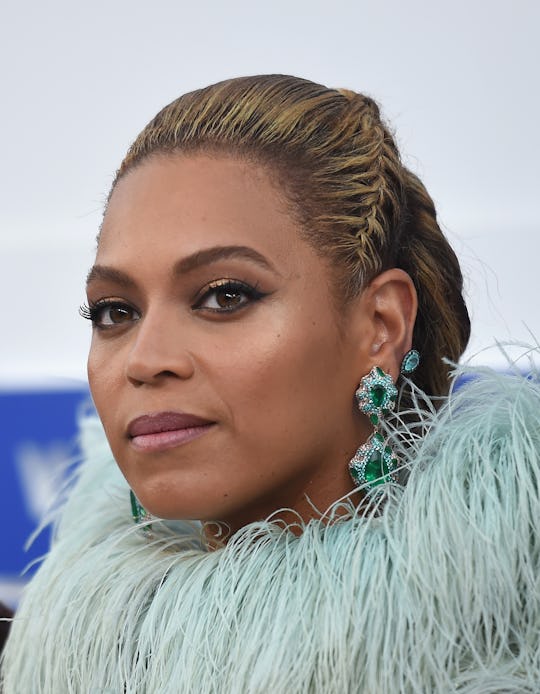 Jamie McCarthy/Getty Images Entertainment/Getty Images
Beyonce's Female Symbol At The VMAs Proves Girls Run The World
Beyoncé came to Madison Square Garden on Sunday night with the intention to slay, and she definitely did. Queen Bey not only gave viewers a show-stopping VMA performance, but she also included a strong message of female empowerment that was evident in the female symbol Beyoncé ended her VMAs performance with. Beyoncé, who received a record breaking 11 VMA nominations this year for Lemonade, brought her latest album to the stage on Sunday night, giving everyone a mini Beyoncé concert.
Beyoncé began her performance with a focus on Black Lives Matter but then transitioned the performance to be specifically about women, which echoed her Lemonade masterpiece. Singing a medley of hits from the album, including "Hold Up" and "Sorry," and performing the amazing dance moves that only Beyoncé can provide, she killed the stage almost effortlessly. Seriously, how was she not tired after all of that?
To end her show stopping performance, Beyoncé performed "Formation," with her back up dancers wearing the infamous big hats that everyone wishes they owned. The big finish was really what caught people's attention, however. At the end of "Formation," Beyoncé and all her female back dancers laid down on the stage in the female symbol. Talk about girl power.
If there was any question about Beyoncé's message it was all summed up in that one symbol. Every step of the way .Beyoncé has made it clear that Lemonade is for and about the ladies, particularly women of color. From the full movie production, to the lady squad she walked the VMAs red carpet with, to this performance, Beyoncé is making it known loud and clear that girls run the world.
Come Monday there are going to be a lot of women going into the office ready to slay, all thanks to Beyoncé. If you missed the performance, make sure to watch it immediately because guaranteed that's all anyone will be talking about for the next week. You don't want to be left out.