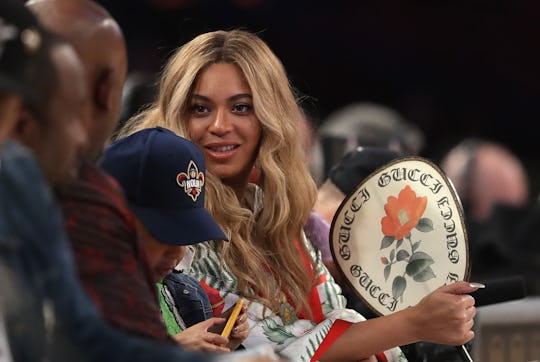 Ronald Martinez/Getty Images Sport/Getty Images
Beyoncé's First Post-Baby Photos Are Stunning
Beyoncé's back on social media, folks, and the Beyhive couldn't be happier. Just hours after posting the very first public picture of her twins, Beyoncé went on a posting spree and shared not one but three pictures of herself looking strong and gorgeous. If you haven't seen them yet, you'll want to head to the singer's Instagram account now, because Beyoncé's first photos post-baby are stunning.
On Friday, after posting a shot of herself with her two sleeping 1-month-old twins, Beyoncé uploaded a few more post-baby life pictures to Instagram, as well. Two are different shots of her in a long-sleeve white top with a flowery skirt, and another shows her and JAY-Z embracing in a garden.
The pictures look a little bit like the Carters are living in a fairy tale, which they sort of are, if you think about it. After all, they just welcomed twins, JAY-Z's new 4:44 album has been pulling in glowing reviews, and the rapper just announced a new tour. They've totally got this, folks.
Beyoncé's sudden spate of pictures posted on Friday mark her first return to social media since giving birth (an event that we can now say occurred on June 13, thanks to her post celebrating the twins' first full month on earth). The Beyhive has been seriously craving some twin updates ever since Beyoncé's last post at the end of May, so the new photos have people understandably excited.
Take a look at the photos in their full glory below:
According to People, Beyoncé rocked her Instagrammed outfit on Thursday night at an event in Los Angeles, where she and JAY-Z celebrated Roc Nation rapper Vic Mensa. They reportedly stayed in the VIP area during their brief appearance there, although JAY-Z also headed up to the stage to introduce Mensa.
Other than her brief celebration of the twins' one-month birthday, Beyoncé has stayed mum about Rumi and Sir Carter. However, Beyoncé's mom, Tina Knowles, confirmed on Instagram that the twins included a boy and a girl when she re-shared Beyoncé's picture on Friday. "So Happy my baby shared a photo of her babies with the world," she wrote in her caption. "Boy and girl what a blessing."
Hopefully the newest photos uploaded to Beyoncé's account were a sign of more to come soon, rather than a rare update, because the world is still waiting on an adorable picture of 5-year-old Blue Ivy with her new siblings. Hint hint, Beyoncé.