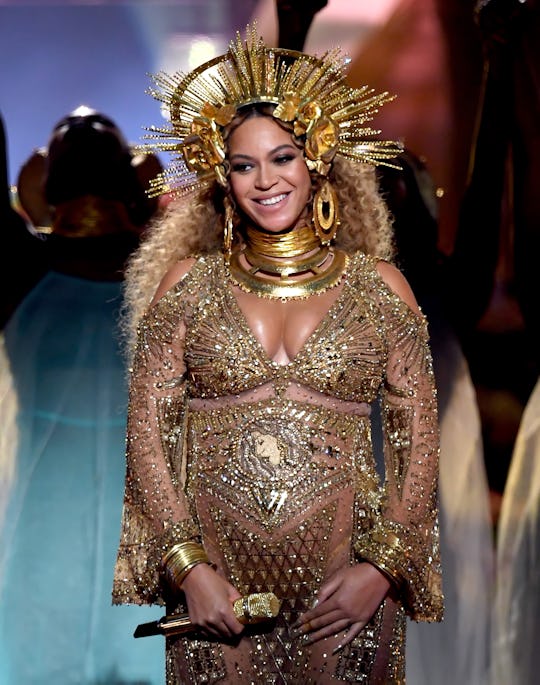 Kevin Winter/Getty Images Entertainment/Getty Images
Beyoncé's New Insta-Video Has Blessed Us All
Beyoncé's second pregnancy (with twins) has been one of the better things to come out of 2017 so far — and let's be real, this year has definitely been rocky. Because of this, photos and videos of the very pregnant singer-songwriter and her family are practically the only thing to look forward to these days. Luckily, Beyoncé's most recent Instagram video features her baby bump in all of its beautiful glory. So, thank you, Beyoncé. We definitely all needed that.
The video is sweet and simple, chronicling Beyoncé's night out with her husband, rapper Jay Z. The video strings together the never before seen photos of Beyoncé and her pregnancy bump, which were released this morning, to the sweet sounds of Calvin Harris' "Slide," featuring Frank Ocean and Migos. In the different photos throughout the video, Beyonce is seen wearing a long, body-hugging emerald green dress which shows off her pregnancy bump for the world to see.
The other photos, many of which were released on her website Wednesday morning, feature details from Beyonce's outfit, as well as candid, close shots of her and her husband. It's a view into an intimate, private night from their lives — giving fans a glimpse into their relationship and another glance at her adorable baby bump.
According to People, the candid photos are from Saturday night, when Beyoncé and husband Jay Z swung by a party for the Academy Award-nominated film Lion. As noted, all of the photos from this intimate glimpse into the couple's often private life can be seen on Beyoncé's website, giving everyone an opportunity to really appreciate all of the details of Beyonce's outfit (seriously, those jewels are amazing).
The video and photos come at just the right moment: Recently, Beyoncé had to cancel her planned appearance at Coachella, a music festival in California in April, on the advice of her doctors, according to The Daily Mail. Since the announcement, the singer and her family have also been spotted at the NBA All-Star basketball game, taking it easy in style, with daughter Blue Ivy wearing a bright green Gucci dress and Bey herself wearing a billowy silk Gucci kimono. After the pictures of the family hit social media, fans (unsurprisingly) went wild, proving that, while she may have to take a break from performing, Beyoncé still knows how to give fans what they want.
Beyoncé might not be performing as much these days, for obvious reasons, but her recent Instagram video and the beautiful photos on her site are just the sort of blessing all her fans deserve.